Nike x Sacai VaporWaffle Size Chart
This post was last updated on October 26th, 2021 at 07:55 pm
Nike x Sacai Collaboration
The Nike x Sacai VaporWaffle size chart is based on the collaboration between Nike and the futuristic visionary Japanese Sacai.
Sacai was established by Chitose Abe in 1999 in Tokyo, Japan. In collaboration with Japanese high fashion label Sacai, designer Chitose Abe fused two iconic Nike shoes for a hybrid, double-themed design.
The Nike x Sacai VaporWaffle Sneaker 2020 combines the innovative Vaporfly with the classic Pegasus from 1983. The Nike x Sacai VaporWaffle doubles up on the details, merging the past and future of Running. Comfortable, secure upper combines with the classic Waffle outsole for a fit and feel you love with the boundary-pushing look of Sacai.
Nike Sacai Sizes : Table of content:
---
The Nike x Sacai Waffle releases
---
Where to buy Nike x Sacai Waffles?
The Nike x Sacai collab sneakers sell out in no time: find your pairs at STOCKX or GOAT
Nike Sacai Waffle Size Chart and Conversion Table
Nike Sacai Men Sizes – Nike Sacai Women's Sizes
The Nike x Sacai VaporWaffle is released only in Unisex Sizes. Find your size below
You can check out the full collection of Nike Vaporwaffle Sacai Here
The Nike Vaporwaffle Sacai Blue Multi 2019 is still available
The Nike x Sacai Vaporwaffle string black villain red is available.
Pictures of the Nike x Sacai VaporWaffle Sneakers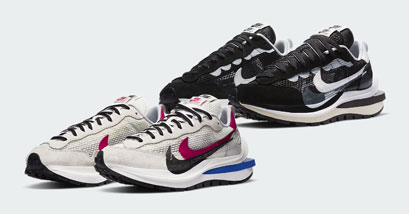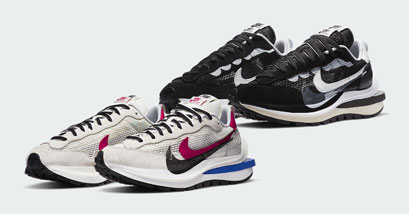 Nike Sacai Waffle Releases
IN BETWEEN SIZES? The Nike Sacai Faq
How is the fit of Nike x Sacai VaporWaffle? What if I'm in between sizes with my measurement? Your foot size measurement may be in between sizes in the Full Nike Shoes Size Conversion Charts. No Panic.
If you want a tight fit, go one size down, whereas if you fancy a loose fit, go one size up.
Find out How to measure your Nike shoes size correctly here.
In the past, Nike and Sacai worked together in other sneaker releases like a special edition silhouette that combines the Nike LDV and Waffle Racer, Sacai x Nike Blazer, …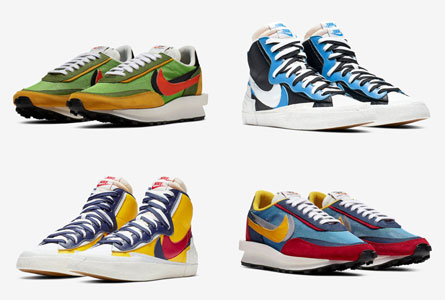 The picture in this Post is the colourway inspired by Joan Benoit Samuelson's marathon win during the summer of 1984.
The dedicated Nike Size Charts: