Most Expensive Nike Sneakers in the World (2022 update)
This post was last updated on February 20th, 2022 at 10:06 am
If you like your sneakers, then you're going to love this list of most expensive Nike Sneakers in the World.
We're big sneaker-heads ourselves. You can't beat a pair of fresh kicks, right?!
So, for all you sneaker-heads out there, here's a list of the 20 most expensive sneakers ever made.
The 20 Most Expensive Sneakers Ever Made?
The list of sneakers and figures mentioned below have been compiled from various sources around the web, such as List25,  Sneaker Freaker & Fashion Beans.
These are the 20 most expensive sneakers ever made:
20. Air Jordan III OG – $4,500
Kicking off our list of the most expensive sneakers ever, are the Air Jordan III OG's.   The TOP 5 Success Lessons from EminemPlay Video
They're on the list because Michael Jordan wore them when slam dunking Dominque Wilkins, which made the sneakers become even more valuable. 
Since then, there have been plenty of re-issues, however, the earliest editions are worth for more. 
So, if you can find a pair then hang on to them!
19. Nike Foamposite One "Sole Collector" – $6,000
Developed in 1997, The Nike Foamposite One "Sole Collector" was a totally unique design for its time.
It's individual colourway and popularity amongst ballplayers fueled its sales and meant that it sold out fast.
The Foamposite is still a super popular shoe, and new colours are continuously being released. However, the older styles are the ones that get the most attention.
18. Nike Dunk Low Pro SB Pigeon – $6,250
These fairly normal looking shoes created a riot when they were released in 2005, due to their limited numbers.
Over time, they became more and more popular, and the price began to reflect their exclusivity.
$6,000 seems like a great deal when compared to the rest of the shoes on our list of most expensive shoes ever made.
17. Nike Yeezy 2 Red October – $7,500
If you like a bit of colour on your sneakers, then these Yeezy's could be for you.
Symbolising the end of Kanye West's collaboration with Nike, the Nike Yeezy 2 "Red Octobers" were a big hit, and Kanye promoted them everywhere he went.
Not the most versatile of colourways, but when worn correctly, they'll certainly raise a few heads. 
16. Vlone x Nike Air Force 1 High – $8000
Are high-tops your thing? Then the Vlone Nike Air Force 1 High could work well for you.
It was the predecessor to the original low-cut version and only 20 pairs were made, which were all sold at an auction in Paris.
If you ever manage to come across a pair of these, be sure to hold on to them as their currently worth around $8,000.
15. Adidas NMD_R1 Friends and Family – $10,000
The only pair of Adidas sneakers included in our list of the most expensive sneaker ever made are the NMD_R1 Friends and Family.Related:  The 20 Most Expensive Alcoholic Drinks In the World
This style of shoe is only for a certain type of person, but it is a decent looking shoe.
Having said that, the NMD has been undeniably successful, selling out of colourway after colourway.
14. Nike Air Mag Back to the Future – $14,500
Literally looking like something from the future, the Air Mags were inspired by the Nike sneakers in the film, Back to the Future 2.
They're pretty rare and last sold at auction for $14,500.
To rock a pair of these, you're going to have to have some series street cred and a solid reputation in the style game.
13. Air Jordan 4 Undefeated – $15,000
The Air Jordan 4 Undefeated sold for $15,000 on eBay because the owner claimed they were made from ballistic material.
A little unusual to say the least, however, it's not surprising as Air Jordans frequently sell for crazy prices, as you'll see in our top ten.
Collectors love a good pair of Jordans 4s, so most enthusiasts will pay whatever it takes to secure a unique pair.
12. Air Jordan 10 OVO – $20,000
Jordans are super popular in the sneaker world. They look great, are comfortable to wear and are synonymous with the legend himself, Michael Jordon.
Now, fans are known to do crazy things when it comes to sports, but one basketball fan was lucky enough to be gifted a pair of Air Jordan 10 OVO's, and then sold them online for $20,000!
Probably subject to tax, but still a great a result!
11. Macklemore x Air Jordan 6 – $25,000
Another rapper shoe collab, this time by Macklemore, is the Macklemore Air Jordan 6.
If you've only got $20,000 then you might want to look elsewhere, as these bad boys command a hefty $25,000.
Talking about frugality and creating your own style, in his song Thrift Shop, it's kind of hard to see Macklemore walking the walk now that he's created a $25,000 shoe!
However, they've still made their way onto our list of the most expensive sneakers ever made.
10. DJ Khaled x Air Jordan 3 'Grateful' – $25,000
Whether you love him or hate him, DJ Khaled's Air Jordan 3 Grateful's are just dope!
We don't need to tell you that you're going to need some incredibly deep pockets if you want to bag yourself a pair of these.
Only a few months after release, the striking red sneakers were retailing for $16,000 and $25,000!
9. Eminem x Carhartt Air Jordan 4 – $30,000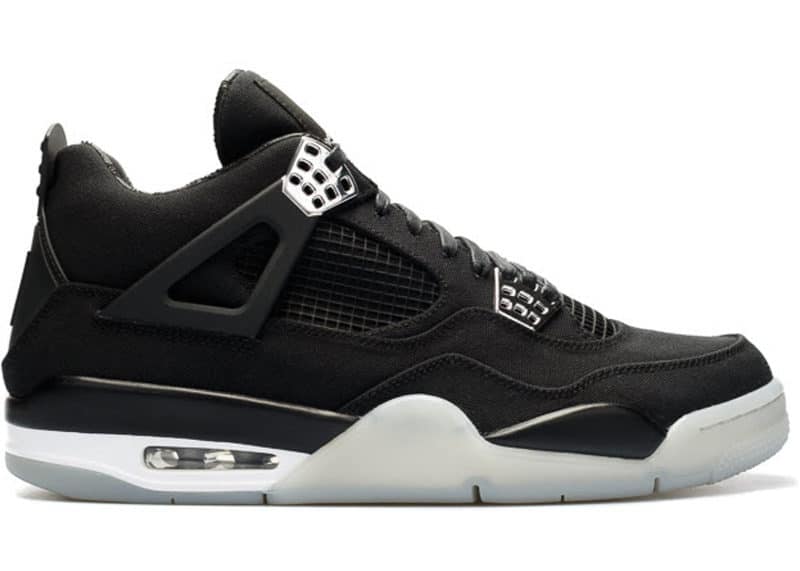 Like most artists, Eminem loves his sneakers.
He's created a few nice limited edition collaborations before, so when he was invited to collab with Carhartt, things were about to get real. Related:  The 25 Most Influential People of All Time
They only made 10 pairs in total and were one of the first shoes ever to be directly sold through eBay.
All the proceeds went to Michigan State University's music school.
Altogether, sneaker-heads spent over $227,000 on the 10 pairs!
8. Air Jordan 2 OG – $31,000
Yet another Air Jordon on the list, the 2 OG is a coveted part of sneaker history, which is why it can command such a high price.
Not the most good looking of shoes it has to be said, but you nonetheless, you can rock this shoe with a ton of different outfits and look fresh all day long.
$31,000 and they're yours!
7. Air Jordan 11 'Jeter' – $40,000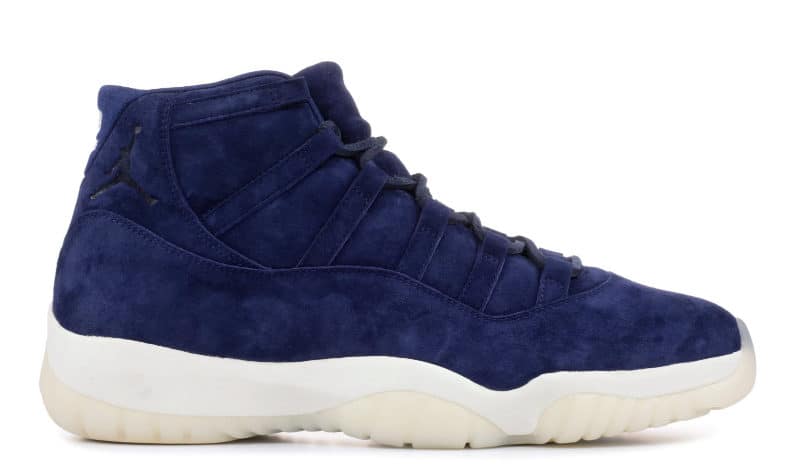 To commemorate Derek Jetter's retirement in 2017, the Jordan Brand released five pairs of navy velvet Air Jordan 11s, in a pop-up shop auction near Yankee Stadium.
The sneakers have the famed number "2" on the heel in white, which compliments the navy suede surround.
But it would probably be best to forget about ever owning a pair of these, as three of the five pairs are locked up in US consignment stores, and the remaining two pairs would cost a small fortune – that's even if the owner would sell!
6. Diamond Encrusted Air Force 1 – $50,000
If you have expensive taste, and like diamonds, then you're going to love Big Boi's Diamond Encrusted Air Force 1's.
Not the rarest of shoes in the world, nor worn by any major ballers, instead, these shoes are covered in champagne diamonds, which is why they cost $50,000.
Wearing a pair of shoes like this might attract the wrong kind of attention, which is why Big Boi auctioned off his kicks to raise money for his Foundation.
5. Air Jordan 12 OVO (Drake Edition) – $100,000
The Air Jordan 12 OVO has always been a popular shoe, however, the Drake edition blew the doors of its hinges, selling for $100,000 on eBay!
Popular with a lot of sports stars, rappers and major celebrities, the Drake edition OVO's are only really attainable to the rich and famous.
$100,000 makes this one of the most expensive sneakers ever made!
4. Air Jordan 12 (Flu Game) – $104,000
Not quite in the top three, but pretty close, are the Air Jordan 12 Flu Games.
Once mentioned as the most expensive Jordans in the world; the price really derives from the fact that Michael Jordan wore the sneakers in the infamous "Flu Game," – a game which he played while having the flu.
Selling for $104,000, these are also one of the rarest shoes on the planet!Related:  The 10 Best Digital Banking Apps In America
3. Buscemi 100 MM Diamond – $132,000
Coming in at number three on our list of the most expensive sneakers ever made are the Buscemi 100 MM Diamonds.
Loaded with 11.5 carats of diamonds and set in 18-karat gold, these shoes aren't for the faint-hearted.
If you're looking for a fresh pair of white kicks, and fancy something totally unique, then cough up $132,000 and they're yours!
2. Michael Jordan's Game Worn Converse Fastbreak – $190,373
Arguably the most expensive game-worn sneakers ever, Michael Jordans Converse Fastbreaks sold for $190,000.
In 1984, team USA won gold at the Olympics in Los Angeles. Decades later, a pair of Converse Fastbreaks signed by Michael Jordan came up for auction.
Originally only expected to reach $100,000, the auction far surpassed every sneaker-heads imagination!
Who'd of thought a pair of converse could be worth $190,000!
1. Solid Gold OVO x Air Jordans – $2 Million 
It's a bit of a steep jump from second to first position, but if you're thinking of spending $100,000 on a pair of sneakers anyway, then you may as well go one better.
There had to be a day when a pair of sneakers were coated in 24k gold, and that day finally came when Drake collabed with Nike to make the Solid Gold OVO x Air Jordan.
They were created by American artist Matthew Senna and each shoe weighs 50lbs!
$2 Million seems like a good deal with all things considered.
 
Summary
We hope you enjoyed our list of the 20 most expensive sneakers ever made.
We would probably buy every single pair on the list if we could, but we might just have to settle for one or two pairs!
Here's a quick recap of the 20 most expensive sneakers ever made:
Solid Gold OVO x Air Jordans – $2 Million
Michael Jordan's Game Worn Converse Fastbreak – $190,373
Buscemi 100 MM Diamond – $132,000
Air Jordan 12 (Flu Game) – $104,000
Air Jordan 12 OVO (Drake Edition) – $100,000
Diamond Encrusted Air Force 1 – $50,000
Air Jordan 11 'Jeter' – $40,000
Air Jordan 2 OG – $31,000
Eminem x Carhartt Air Jordan 4 – $30,000
DJ Khaled x Air Jordan 3 'Grateful' – $25,000
Macklemore x Air Jordan 6 – $25,000
Air Jordan 10 OVO – $20,000
Air Jordan 4 Undefeated – $15,000
Nike Air Mag Back to the Future – $14,500
Adidas NMD_R1 Friends and Family – $10,000
Vlone x Nike Air Force 1 High – $8000
Nike Yeezy 2 Red October – $7,500
Nike Dunk Low Pro SB Pigeon – $6,250
Nike Foamposite One "Sole Collector" – $6,000
Air Jordan III OG – $4,500