Dog Bed Sizing Guide – Choosing the Right Bed Size for Your Dog
This post was last updated on December 20th, 2021 at 11:33 pm
Have trouble choosing the right bed size for your dog? This shouldn't be mind-boggling as we have prepared a detailed dog bed sizing guide for dog owners. 
A dog-like human needs comfort and a sense of security when sleeping and this is the reason why you a standard size bed for your dog. We have a list of different dog sizes in weight pounds and kgs and lengths in inches and cm. 
Dog Bed Sizing Guide Explained
If you are planning to get a dog bed, you need to start by understanding the size of your dog. Below is a sizing chart showing the dog size weight in lbs and kgs and length inches and cm as well as the dog breed. 
| | | | |
| --- | --- | --- | --- |
| Dog Size | Weight in Lbs and Kgs | Length in Inches and CM | Dog Breed Examples. |
| X-Small | 1 to 10 lbs 0.453592 to 4.53592 kgs | 18 by 13 inches 45.72 by 33.02 cm | Maltese, Chihuahuas, Papillons, Most Cats, Pomeranians, Yorkies. |
| Small | 11 to 25 lbs 4.98952 to 11.3398 kgs | 24 by 18 inches 60.96 by 45.72 cm | Chinese Cresteds, West Highland Terriers, Poodles, Pekingese, Bichons Frises, Dachshunds, Havanese, Miniture Pinschers, Pugs, Lhasa Apsos, Boston Terriers, Shih Tzus, Brussels Griffons, French Bulldog. |
| Medium | 26 to 40 lbs 11.7934 to 18.1437 kgs | 30 by 20 inches 76.2 by 50.8 cm | Cairn Terriers, Miniature Schnauzers, Scottish Terriers, Beagles, American Staffordshire Terriers, Cavalier King Charles, Shetland Sheepdog. |
| Large | 41 to 70 lbs 18.5973 to 31.7515 kgs | 36 by 23 inches 91 by 58.42 cm | Bull Terriers, English Springer Spaniels, Wheaten Terriers, Bassett Hounds, Sharpeis, Welsh Corgis, Australian Shepherd, Cocker Spaniels, Springer Spaniels, Bulldogs, Boxers. |
| X-Large | 71 to 90 lbs 32.2051 to 40.8233 kgs | 42 by 28 inches 106.68 by 71.12 cm | Chow Chows, Airedale Terriers, Rottweilers, Border Collies, Vizslas, German Shepherds, Standard Poodles, Weimaraners, Golden Retrievers, Rhodesian Ridgebacks, Siberian Huskies, Labrador Retrievers, Doberman. |
| XX-Large | 91 to 110 lbs 41.2769 to 49.8952 kgs | 48 by 30 inches 121.92 by 76.2 cm | St. Bernards, Great Danes, Alaskan Malamutes, Weirmaraners, Bernese Mountain Dogs, Old English Sheepdogs. |
How to Measure the Dog's Length. 
As a matter of fact, there are different sizes for dogs with different lengths. It is important that pet owners understand how to measure the dog's length. To be precise, having the dog's exact length measurement is critical when choosing the perfect bed size and bed measurements. The size recommendations in the table above show the different dog length sizes which will guide you when purchasing a standard size bed for your dog depending on the dog breed.   
The literal length of the dog is obtained by measuring a dog from the tip of the nose to the tail end. However, the literal length isn't accurate and can't be used as the actual dog length measurement. As pet parents, If you were to order designer dog beds for your dogs using nose-to-tail-tip dimensions it could be an oversized bed. 
To obtain correct dog measurement ensure your dog stands up straight. Then place the tape measure at the dog's spine from where the collar rests and straighten the measuring tape up to the point where the tail meets the body. Read the measurement of the tape and now you have the correct length of the dog. 
With the correct dog length measurement, you will need a larger size of your dog's sleeping station to ensure that your dog's sleeping position is comfortable. To get the proper size bed measurement use the size chart above. 
Dogs Sleeping Styles Explained.
Curlers 
This is a common dog sleeping style. Dogs tend to tuck their nose and curl their body like a ball to gain warmth and for protection. When a dog feels insecure and it curls up during sleeping it feels psychologically secure. Dogs like humans or any other mammals assume a curled-up position when sleeping. Mentally the dogs also curl up to protect important body organs from predators when sleeping hence getting a feeling of security. In fact, before dogs were domesticated they used to build sleeping nests where they could sleep in a curling position.  
Sprawlers
These are dogs whose preferred sleeping position is stretching in all directions and therefore they are called sprawlers. They use the entire surface of the sleeping station. Dogs like sprawling out when sleeping when there is warmer climate to expose the belly so as it can cool off. Based on these sleeping habits they require a roomy pad. 
Leaners 
These are dogs that like sleeping when leaning on something always. Ideally, they feel the comfort of leaning, and dog sofas could work great for these types of dogs. However, bolster beds can also be a perfect solution for this kind of dog. 
Burrowers 
Like the burrowing earthworms, these types of dogs like pitting in and moving to sleep under the cover. They like their ancestral origin before being domesticated to create a cave-like feeling. They can also come to your bed and their burrowing disturbance will not let you sleep. The best beds for borrowers are domed or hooded dog beds. 
Types of bed – Get a Perfect Size Dog Bed. 
Dog beds come in a variety of sizes, shapes, materials, and thicknesses. Dogs like humans like comfort and therefore it will be out of order for a pet owner to purchase the cheapest dog bed as the dog may refuse to sleep, hence causing distress. Purchasing a high-quality bed saves you bucks in the long run. Quality dogs beds give your dog a sense of security. 
 Orthopedic Dog Bed. 
This is a mattress designed using different substances such as memory foam. It has a thick cushion that is fitted between the floor and the dog. Like in humans where they support people with joints and bones complications, so is it for dogs. Orthopedics dog beds work great for older dogs and large dogs. If your dog loves pillowy surfaces, sleeps in a curled-up position, or gets overheated. 
Oval-shaped or Round Dog Bed. 
These are dog beds that are lightweight, deluxe, and filled with foam rubber. They are specifically designed for short-haired dogs, small dogs, or dogs that like curling up when sleeping. In case your dogs like chewing they can chew the bed, sprawl when sleeping, or need the support of the bones or joints you shouldn't use an oval-shaped or round dog bed. 
Pillow Dog Beds. 
This dog bed has a rectangular cushion. It is designed for dogs that like sprawling or stretching out, going to bed when dirty or muddy, and always switching sleeping positions. If your dog can chew a bed or likes thick cushioning just avoid the pillow dog bed. The bed has a washable cover and it's waterproof. 
Bolster Dog Beds. 
This dog bed has a rigid border made of diverse materials and shapes. It is sofa-like. It is specifically made for dogs who like sleeping on a raised surface when their paws and chin are resting. Some dogs will be distressed by firm borders and this can lead to the dog chewing the bed. 
Covered Dog Bed.
It looks like an envelope to a dome. The covered dog bed is designed for dogs who like sleeping in a  small and covered space under blankets. This gives the dog a sense of security.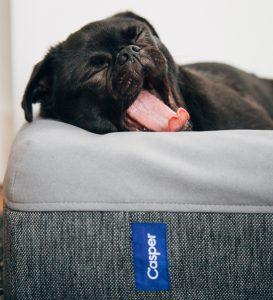 Dog Bed Mattresses
Many brands are diversifying their product range from adults, to cribs and even dog beds. Casper, Purple are some of them.
Factors to Consider When Choosing a Size Dog Bed. 
Understand what your dog needs: It is significant to ensure that the dog's sleeping station provides the best comfort. To be precise, dogs with joints and bones problems with need orthopedic or memory foam dog beds. Older dogs require predefined bed sizes which are cushier and softer. If your house is too cold or it's during winter always go for a heated dog bed, when it is warm you can consider a pillow dog bed which will have enough space for the dog to stretch.  
Preferred dog sleeping position: The sleeping position of your dog is crucial when determining the kind of dog bed to purchase. If your dog likes stretching out it requires a deluxe and large rectangular bed. If your dog requires a "nest" or requires a sense of security a covered dog bed is preferred for this dog. 
Ease of cleaning: With a washing machine, it is always easy to purchase a machine-washable dog bed for puppies or a dog that got an accident and will have to spend most of the time on the bed. You can also consider removable covers for ease of cleaning. 
Budget: As a matter of fact, when purchasing a dog bed it is important to have your budget outlined correctly. Your budget should match the quality of the dog bed this helps get good value for your purchase. 
Consider any miscellaneous information: Apart from all the factors we have listed above there are other facts to consider when purchasing a dog bed such as warranties, money-back guarantees, and reviews from previous dog owners who had used the dog bed earlier. The color of the dog bed is also a factor to consider so as to ensure the dog doesn't hide dirt. 
Conclusion
In reality, purchasing a proper size dog bed can be challenging for dog owners. This dog sizing guide is designed to help pet parents determine the quality and size of dog beds perfect for their pups. 
If you enjoyed reading this dog sizing guide, please don't hesitate to leave a comment below!
Picture in this post by Jordan Bigelow on Unsplash
Related Dog Size Charts