Dog Size Chart by breed and age: a complete guide for your dog's needs.
This post was last updated on October 15th, 2023 at 04:25 pm
How do you feel when you find a cute outfit for your dog and on buying it, you find out that you did not get the exact measurements for it? It all starts with having the primary measurements saved somewhere. Then, it wouldn't be scary to buy any outfit, leash, kennel,… for your favorite dog pet. In getting the measurements, you will need to go through the size guidelines and helpful size guides and relate them properly on the dog size chart.
Check the specific size charts for the needs of your dog
dog size chart by dog breed
| | | | | |
| --- | --- | --- | --- | --- |
| Dog Size | Weight  | Chest Girth | Back Length | Breed Examples |
| Extra Small | 5 – 10 lbs 2.27 – 4.54 kg  | 11 – 12 inches 27.94 – 30.48 cm  | 7 – 8 inches 17.78 – 20.32 cm  |  Bichon, Yorkie, Chihuahua, Shiba Inu, Corgi Shiba Inu, Scottish Terrier  |
| Small | 10 – 25 lbs 4.54 – 11.33 kg  | 15 – 17 inches 38.1 – 43.18 cm  | 9 – 10 inches 22.86 – 25.4 cm  | French Bulldog, Pug, Boston Terrier, Cocker Spaniel, Golden Retriever, Brussels Griffon  |
| Medium | 25 – 50 lbs 11.33 – 22.67 kg  | 19 – 20 inches 48.62 – 50.8 cm  | 13 – 14 inches 33.02 – 35.56 cm  | Beagle, Corgi, English Bulldog, Shar Pei |
| Large | 50 – 90 lbs 22.67 – 40.82 kg  | 24 – 26 inches 60.69 – 66.04 cm  | 17 – 18 inches 43.18 – 45.72 cm  | Labrador, German Shepherd, Akita |
| Extra Large | 90 -150 lbs 40.82 – 68.04 kg  | 28 – 30 inches 71.12 – 76.2 cm  | 20 – 21 inches 50.8 – 53.34 cm  | Newfoundland, St. Bernard, Mastiff |
  The dog size chart is just like every other fashion size chart. The sizing chart represents the primary measurements for major breed size groups like the Yorkshire terrier, the bull terrier, the fox terrier, Staffordshire terrier, the highland terrier, the Shih Tzu, the Bernese Mountain Dog, the Jack Russell terrier, the cairn terrier, the wheaten terrier, the Boston terrier or any dog breed at all.
How do I take the measurement for my dog?
When taking the measurement for your dog, you make use of a soft tape measure against the surface of your dog's skin to get the appropriate measurement in inches. Stretch it out from the beginning of the tape snug and form it around that part of the body you want to check just like the neck.
Any outfit for the neck you might want to make can be a pendant, a dog chain, a dog bead, or a piece of fashion item with a collar. You do the same for the trunk, back, or any other part of the body that you might need the measurement for in determining the right outfit.
How do I know my dog's size?
You need a measuring tape, and your dog while standing
Measurement A: The length of your dog (in cm or inches) from the tip of its nose to the back of its body, without the tail.
Measurement B: The height of your dog's leg from floor to shoulder (in cm).
Measurement D: The height of your dog (in cm) from the ground to the top of its head, including the ears if they are erect.
How do I get the perfect dog size chart?
Virtually anyone, whether a blind user, one with visual impairments, a motor-impaired person, prone users, keyboard users, or anyone at all who has a dog or wants to gift a dog can make use of the dog size chart or a puppy size calculator.
So, in getting the perfect size for your dog, make sure you know your brand!
Does the weight of my puppy affect the measurements?
The weight of a puppy can be evaluated using a puppy weight calculator or the puppy weight estimator. The adult weight can be obtained via a weighing balance without using a weight estimator. The weight estimator is in different weight categories. You should also know that the size chart is dependent on the weight chart which has the weight chart calculator or the weight chart predictor to determine the dog weight.
Related: Toy Poodle Size Chart by Age : How big will a Toy Poodle get?
Dog weight by age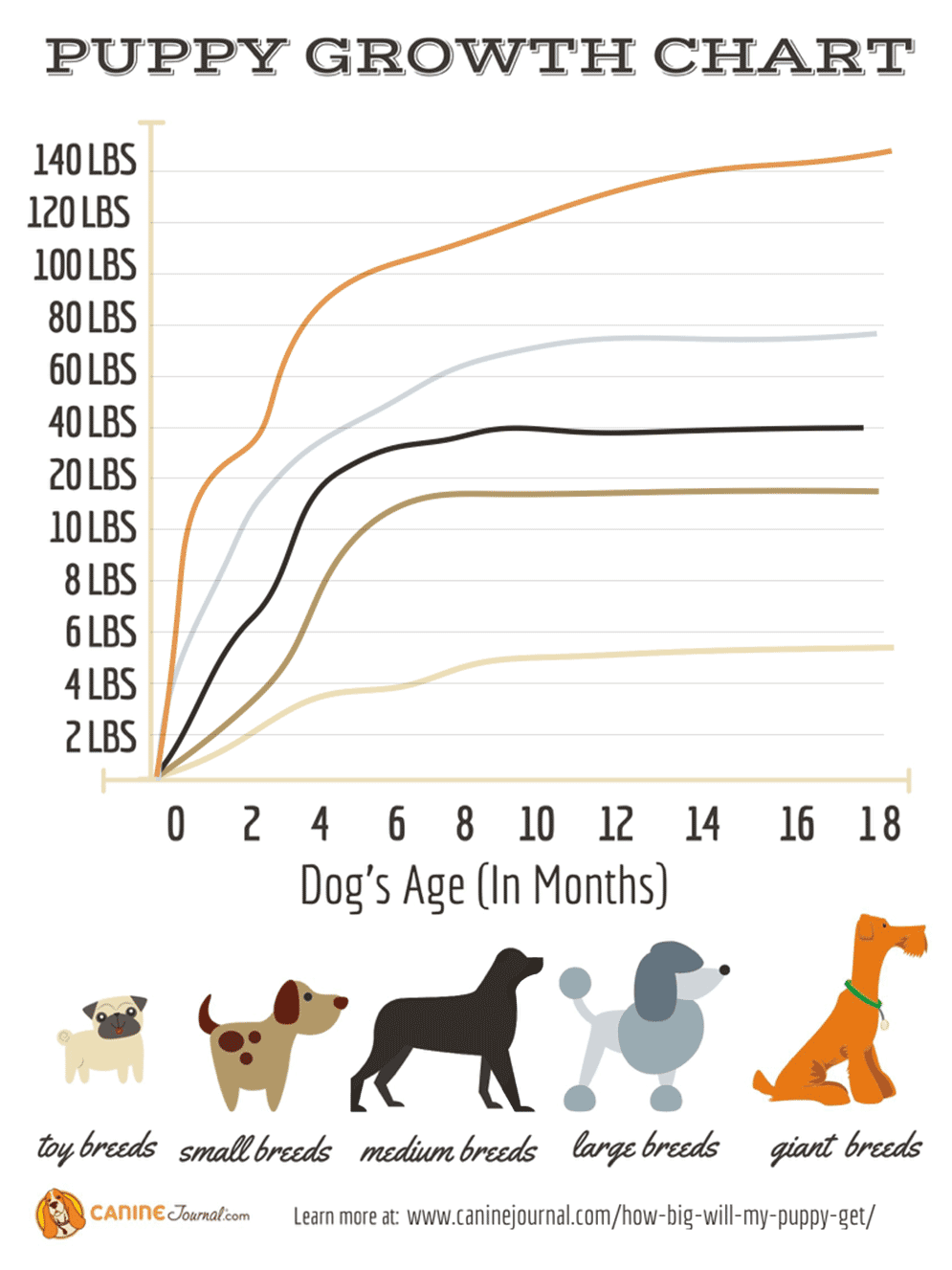 How Big Will my Puppy Get?
People tend to have many questions after adopting a puppy; when my furry companion reaches adulthood, how large will they be? When do pups reach the point where they stop growing? What size will my mature dog grow to be? 
A quick google search often will not give these answers as quickly as you would like, especially for  cross-bred and multi-breed dogs, 
Weight and paw size measurements might help you estimate your puppy's adult size. However, since small breeds such as the Shih Tzu, Charles Spaniel, Cocker Spaniel,  or Wheaten Terrier, medium breeds such as the Golden Retriever, large breeds such as the Mastiff and Bull dog mature at varied rates, these measurements may not be as accurate as you'd like.
Several factors can influence how big your small dog grows. While projecting a puppy's mature weight and height isn't an exact science, there are a few methods for estimating future growth and full size with accuracy.
Step 1: Determine your puppy's weight.
This can be done using a baby scale or during a trip to a vet. But in cases where this is not possible, you can determine your pup's weight using a standard bathroom scale.
Before you begin, double-check that the bathroom scale is set to zero.
Take your puppy and hold it carefully. It may wriggle around, but try not to drop it since it could get wounded. 
Climb the scale and wait a few seconds for it to calculate your weight. Check the number and make a note of it.
Reward your dog for not attempting to jump.
Climb the scale on your own
Get your weight and note it.
To determine the puppies' weight, subtract your weight from what you received for yours and the puppy's weight.
Step 2: Determine your puppy's breed
You can do this by asking a vet for their opinion or ordering a DNA test. If you do not have immediate access to this, you can determine its approximate breed by assessing its physical characteristics such as:
Fur color
Fur length
Weight
Skull shape
Snout length
Tail characteristics
After getting these, use Petfinder or American Kennel Club breed evaluator to determine its approximate breed.
Step 3: Determine your puppy's approximate age in months
Step 4: Use a dog adult weight calculator
Dog adult weight calculators such as Puppy Chart and Puppy Weight Calculator can help to predict your puppy's adult size using the information collected above. They compare their present size to previous statistics from dogs of the same breed.
Importance of a dog size chart
A dog size chart helps you as a customer to have a mental picture and description of what you want to purchase. It also helps you purchase the right size of outfit without first making the mistake of returning it. You will really feel so confident in getting your dog outfits because you know the exact measurements that will fit.
A dog size chart, as a brand owner, reduces the room for much vague explanation to your customers. No matter how eloquent you are, you might have experienced explaining a particular thing to your customer and the more you try, it seems he isn't getting it at all. A dog size chart, be it a bandana size chart or a chart that shows the muzzle size saves you the stress.
Dog sizes by breed explained (video)
Conclusion
Once you get your exact measurement, check it on the dog size chart. You might even ask, "What if I get the measurement of my dog with a flexible measuring tape and don't find the correct size in the sizing chart?" That might be possible when you are found checking the wrong muzzle sizing chart. Each brand model has its own sizing chart with different tags so it might be very complicated to compare one to another. You just need to make sure you get the exact measurements. Feel free to drop a comment in case you've got any questions!
Picture in this post by Matt Nelson on Unsplash
More related Dog Sizing charts