Hot Tub Size Chart
A "hot tub" is a huge tub of hot water in which bathers soak and usually chat. It's the equivalent of a spacious bathroom with a built-in pool. Hot tubs offer a variety of advantages to their users. People typically love bathing in hot tubs when they want to unwind from the stresses of daily life, and this is because hot tub rest can be beneficial to one's health (skip straight to the hot tub size charts).
Although most people use their hot tubs outside, many also enjoy a relaxing bath in the comfort of their own homes.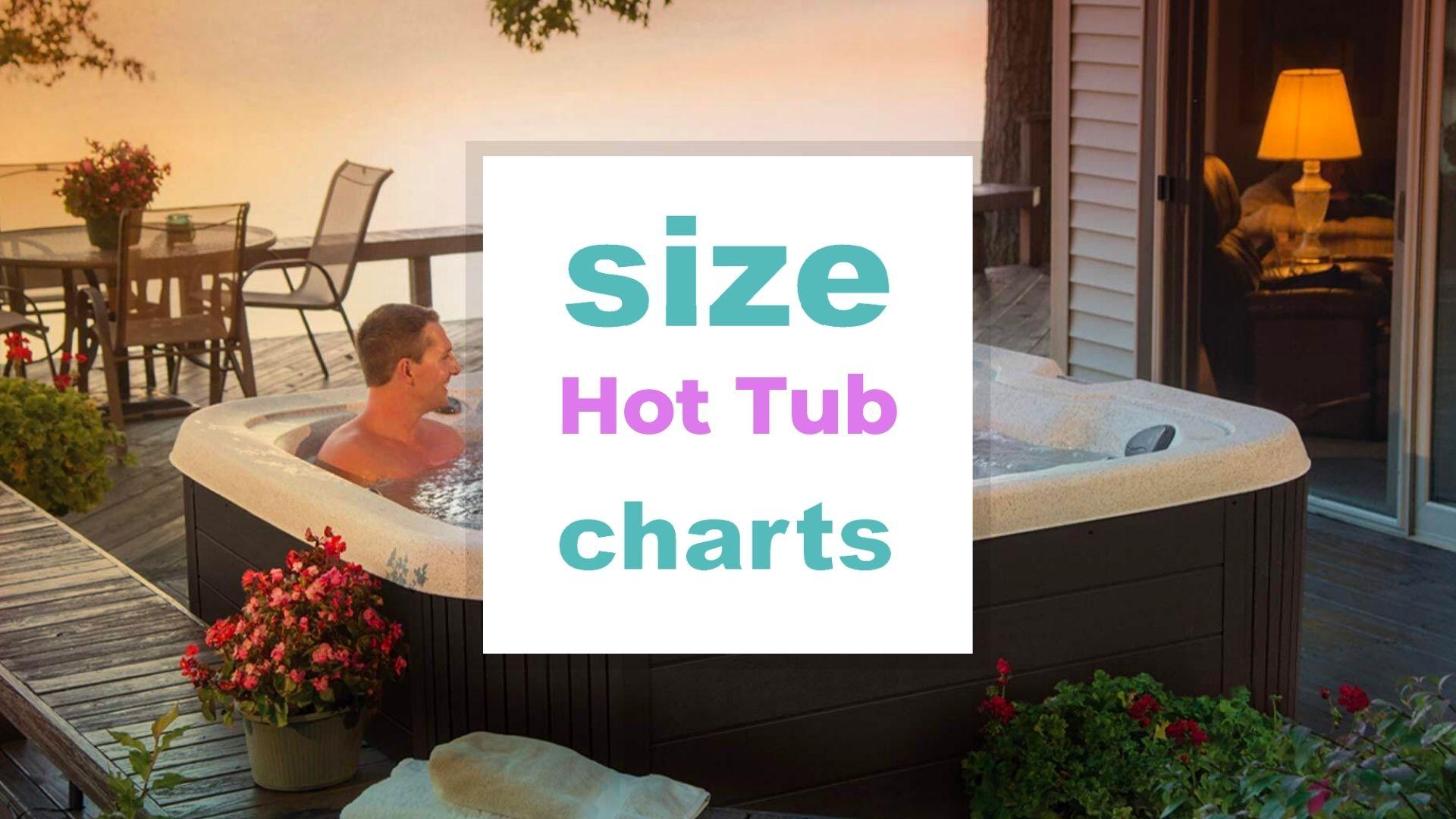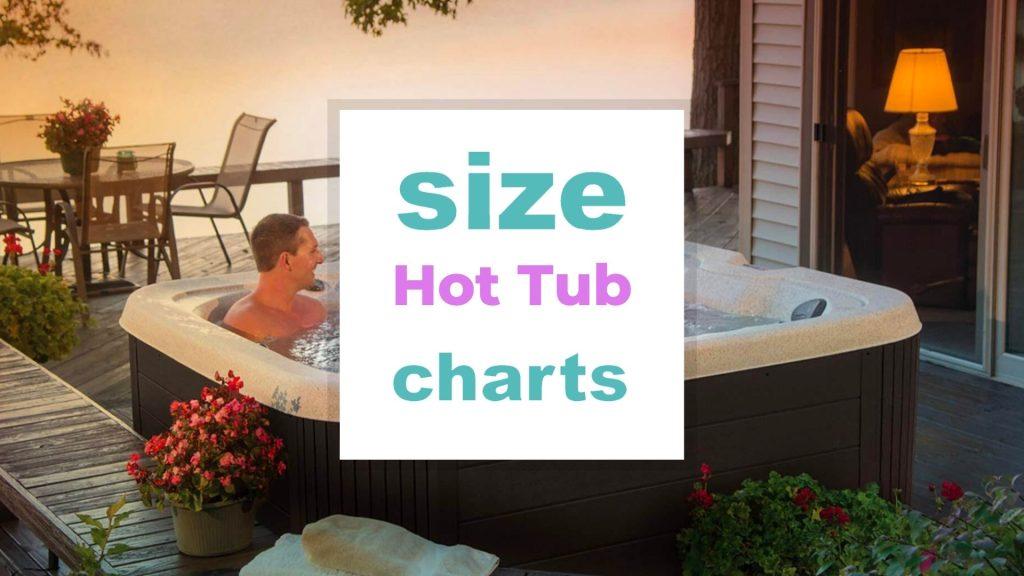 A hot tub is large enough for several people to enjoy, making it perfect for social gatherings with loved ones. Thus, a hot tub is ideal for a group of friends looking to unwind together after a long day of work or school. Even if it's overcast or pouring outside, a hot tub is still enjoyable. They believe today is the best time to relax in a hot tub. It is possible to install LED lighting inside of a hot tub, allowing people to use the spa at night.
Why are hot tubs commonly referred to as Jacuzzis if they and a hot tub are conceptually distinct? One common misconception is that hot tubs and jacuzzis are interchangeable. Remember that Jacuzzi is a company that also makes hot tubs.
Get the correct hot tub model dimensions here to ensure you have enough room to unwind. If you are tall and value extra legroom, it is also a great buy for you.
Jump right into the Frequently Asked Questions
Related: Shower Size Chart: What are the Standard shower sizes?, Bathtub Size and Different Types: What are bathtub dimensions?
Hot Tub Size Chart Table of Contents
Hot tub size chart
Related: Sink Base Cabinet Size Chart – Your Guide to the Standard Sizes
| | | | |
| --- | --- | --- | --- |
| Hot Tub Size Ranges | Length | Width | Height |
| Small (2-4 people) | 5'4" – 7" ft 162.56 – 17.78 cm | 5'4" – 6'8" ft 162.56 – 203.2 cm | 29" – 35" in 73.66 – 88.9 cm |
| Medium (5-6 people) | 6'6" – 7'9" ft 198.12 – 236.22 cm | 6'4" – 7'9" ft 193.04 – 236.22 cm | 33" – 38.5" in 83.82 – 97.79 cm |
| Large (7+people) | 7 – 9 ft 213.36 – 274.32 cm | 7' – 9'2" ft 213.36 – 279.4 cm | 36" – 38" in 91.44 – 96.52 cm |
How to choose the right Hot Tub and the best hot tub size for you
Related: Boiler Size Chart – What size boiler do I need? Bathtub Size and Different Types: What are bathtub dimensions?
Finding the appropriate hot tub size is crucial when deciding on a spa for your garden. How many people can fit inside, how much it will cost, what kinds of forms and configurations are available, and even the hot tub's energy efficiency are all affected by its size.
Your goal should be to choose a hot tub size that works for your yard and your family's needs for relaxation and fun without breaking the bank.
Here at Modernize, we have compiled a comprehensive seating and sizing guide to assist you in selecting the ideal hot tub for your house. Prepare to delve into questions of scale, form, and efficiency.
Hot tub measurements
Hot tub standard measurements are the first item to consider. The standard dimensions for a hot tub are 5 feet in width, 9 feet, and 29 inches to 39 inches in depth. The size of a hot tub is dependent according to the hot tub manufacturer.
Hot tubs typically come in three sizes: small, medium, and giant. A small hot tub can seat as few as two people, a medium tub can hold four to six people, and a large tub can fit seven or more.
Dimensions and prices
Consider not just the number of people you intend to fit in the hot tub, but also its size and price. Is there enough room for the hot tub in the area you've chosen? Large hot tubs provide unique challenges for patios, but backyards typically accommodate even the most opulent of jacuzzi tubs.
Before deciding on a size, it's important to get an accurate measurement of the area that will house the hot tub. Not to mention the fact that the larger the hot tub, the more it will cost. Keep in mind that there may be variations in size between an in-ground and a portable hot tub.
Don't forget to account for height as you measure these distances. The hot tub's depth and capacity are both affected by the user's height. Most people feel most at ease in water that is just below their shoulders, so consider increasing the depth of the pool to help guests unwind.
Seating and Shapes
Before purchasing a new hot tub, many homeowners give serious consideration to the aesthetic preferences they have in mind. However, there are also sizing concerns that go into shape. Its design will greatly affect the dimensions and capacity of your hot tub, as well as the number of people it can accommodate.
Remember that there are restrictions on the number of seats that particular shapes can accommodate. The four sides of a square or diamond-shaped hot tub provide comfortable seating for up to four or eight people, respectively. They similarly limited hot tubs in the shape of a triangle or a corner to accommodate only three people at a time.
Make sure you inquire about the water capacity of various hot tub shapes and sizes, as well as the expected monthly energy consumption, from a hot tub professional before making a final decision.
Choosing the right Hot Tub seating
Related: Beach towel size chart for all occasions, couples, adults and kids , Boiler Size Chart – What size boiler do I need?
How many people can you comfortably fit in your hot tub? It might seem self-evident. However, the size of the hot tub depends on how many people can fit in it. The maintenance costs, the amount of yard area needed, and the number of jets all increase with the size of the hot tub.
Get an idea of what to expect from a variety of hot tub sizes and seating configurations.
Hot tubs for 2 to 3 people
Couples or those with a limited amount of outside space may prefer a smaller hot tub that seats two or three people. As they typically only require one heat pump and fan and run on 110V of electricity, smaller hot tubs are more cost-effective to run than larger spas.
Typically, a hot tub for two will have only 40 jets with only 15 or 20 jets for each seat, and this will be more than adequate for a romantic evening for two. Spas for 2 or 3 people can be circular, square, or oblong.
4 Person Hot Tubs
One of the most common sizes of hot tubs is one that seats four people, as this provides enough space for additional friends and family to join in while still being quite effective to run. Make careful to check with the manufacturer and model to be absolutely certain, but hot tubs designed for four people use power at 110 volts and have a single heat pump and fan.
For those with a smaller family or who frequently entertain visitors as a pair, a hot tub that seats four is an excellent investment. Many four-person hot tubs contain between 50 and 60 jets, or up to 20 jets per person. If you're looking for a 4-seater hot tub, you have a few options: round, square, rectangular, or even diamond or clover shapes.
6 Person Hot Tubs
The 6-person hot tub is on the cusp between the medium and big sizes of jacuzzi spas. For those with many people living in their household or who frequently host parties, a hot tub like this is an excellent investment.
The number of jets, water volume, voltage, and a number of heat pumps and blowers are all important factors to consider if running expenses are a problem. In order to function properly, a hot tub with a capacity of six people or more normally requires an electrical supply of 220 volts, a maximum of two heat pumps, and two fans.
Also, a hot tub designed for 6 people should have at least 60 jets. The more power your hot tub consumes each month, the higher your utility bills will be. If you want a larger hot tub without blowing your budget, consider buying one version that can accommodate six people but only needs 110 volts of power rather than 220 volts.
7 – 8 people standard hot tubs
The largest available hot tubs can fit eight people. Some of these spas have seventy jets and run on a minimum of two pumps and one blower. They are more expensive to operate and maintain a constant temperature for the water, but they are ideal for homes with multiple occupants or frequent visitors. If you're considering a hot tub that seats seven or eight people, measure the area where it will be placed before making a purchase.
Thoughts on Energy Efficiency
Many homeowners, when looking to buy a new hot tub, cannot take the tub's energy efficiency into account. The homeowner is liable for the initial cost of installation and the ongoing expense of maintaining and operating the hot tub. Monthly bills for utilities and energy are what you may expect to pay.
A larger hot tub will have higher operating costs. This is because of things like water storage and maintenance needs. One of the most important elements is the amount and quality of insulation in the hot tub, as well as the number and size of heat pumps.
In order to keep the water at the ideal temperature in larger hot tubs that can seat anywhere from 6 to 8 people, it is typically necessary to use two heat pumps. In addition, they often operate on 220V of electricity, which means they will consume more power than more compact variants. Comparatively, huge hot tubs may contain about 30 percent more water than smaller hot tubs. They need more energy to maintain a constant water temperature.
Find well-insulated hot tubs if you want to save money on your monthly energy bill. Some of the best-selling brands of hot tubs on the market today are also some of the most energy-efficient. Inquire with a specialist about energy-efficient options for larger hot tubs if that's what you're after.
Preparing the Site for a Hot Tub Installation
Take precise measurements of the area of your backyard where the hot tub will be installed before making any final decisions on the hot tub size. Take a complete set of dimensions including the depth, width, and height of the space. When taking measures, make sure there are no obstacles in the way, including overhanging plants or outdoor seating.
To make getting in and out of the hot tub easier, give yourself an extra foot on each end. You can remove your hot tub cover from the spa while not in use thanks to this additional clearance. It's also smart to have a backup site in mind in case the installer cannot set up the hot tub where you'd like it.
A Hot Tub Installation Checklist
Related: Bath Size Chart and Sizing Guide
Many people today see having a hot tub in their home as more of a requirement than a luxury. Your backyard hot tub could be your new best friend for your physical and mental well-being. Even though setting up a hot tub is a simple process, there are a few things you should know beforehand. Here are six factors to think about before having a hot tub installed.
Placement
It might not be as easy as you think to find the ideal spot for your new hot tub. There are a few things to think about when deciding where to put the hot tub.
Where, inside or outside?
Whether your hot tub will be placed indoors or outdoors is a decision you've likely already made. We hope this was a consideration before you settled on a particular hot tub model, as installing one indoors can be more challenging and may cause additional work to meet engineering and safety requirements.
Ventilation
Your hot tub will need additional ventilation if you plan to install it indoors. The humidity in the hot tub can be managed by installing exhaust fans to draw air from the room. Dampness can eat away at the wood on your floors and the drywall on your walls. A humidistat, which allows the exhaust fan to turn on and off automatically based on humidity levels, is another recommendation from our installers for the person model.
Power Source
Having your hot tub hard-wired to an outlet that isn't shared with any other electronics is essential. The model of the hot tub your purchase will dictate the space requirements for its installation. In order to get power running and your breaker box setup, you'll need to hire an experienced electrician. We have an installation crew that can help coordinate this.
Your bathroom needs sufficient space for bathing, getting in and out, and routine upkeep. Pick a spot that gives you unhindered access to the hot tub's plumbing and electrical components. A minimum of 30 inches of space is required on all sides and behind the hot tub.
Privacy
The goal of most hot tub owners is to have a peaceful place to unwind. When your neighbor's 5-year-old makes funny faces at you from the second-floor window, it's difficult to relax. Pick a spot in your yard where you won't be directly exposed to the sights and sounds of the neighbors' houses.
The most popular options are arbors and hedges. A word of caution, though: debris from hanging plants can be a pain if they end up in your hot tub.
Security
To prevent children and pets from wandering in, it's a good idea to install extra fencing and/or secure the gates. They can increase the safety of your hot tub by covering it while you're away.
Foundation
Base Your hot tub needs to be set up on the stable, level ground. A subpar base can be hazardous to users' safety and will certainly wreck their hot tub. A warranty does not cover damage caused by inadequate foundations.
Learn more about Hot Tub Size Charts (video)
Frequently asked questions
1. What is the size of a standard hot tub?
Standard hot tub dimensions range from 78 to 84 to 94 inches in width and depth, respectively. The spa's depth (or height) might change from one model to the next.
2. How do I figure out what size hot tub I need?
Whether you're installing a hot tub in a spacious backyard or a compact screened-in porch, picking the right size is crucial. Here, fortunately, one can choose from a wide variety of alternatives. However, there is more to consider than the area around the spa when determining the best size and layout for you and your loved ones. The number of seats in your hot tub should reflect both the intended users and their actual numbers.
3. How many people fit in a 7×7 hot tub?
seating capacity of 4 – 6 Adults.
4. What's the size of a 4-person hot tub?
| | | | |
| --- | --- | --- | --- |
| Hot Tub Size Ranges | Length | Width | Height |
| Small (2-4 people) | 5'4" – 7" ft 162.56 – 17.78 cm | 5'4" – 6'8" ft 162.56 – 203.2 cm | 29" – 35" in 73.66 – 88.9 cm |
5. How many gallons does a 6-person hot tub hold?
A typical 6-person hot tub will have a water capacity of between 320 and 475 gallons.
6. How much electricity does a hot tub use?
Hot tub energy costs are primarily because of the heater, which typically uses anywhere from 1,500 to 6,000 watts. The pump consumes an additional 1,500 watts of power. The price per kilowatt-hour (kWh), the weather in your area, and your hot tub's upkeep and use routines will all affect the real cost of operating it.
7. How big is a 3-person hot tub?
Dimensions 212 x 155 x 82 cm ·
8. Does a hot tub use a lot of water?
If your hot tub is properly maintained, you do not need to replace the water as often as once every four months. The typical hot tub, which has a capacity of about 400 gallons uses about three gallons of water per day.
9. How long does it take to fill a 300-gallon spa?
2-3 hours and If your hot tub is big enough to fit eight adults, then your tub can contain over 300 gallons of water. To fill this enormous hot tub to its approximate level, set aside at least two to three hours. The time needed to fill a hot tub is reduced in proportion to its size.
Conclusion
After you have measured your space, choose a hot tub in the style and size that best suits your needs. Look at a variety of hot tub construction options before making a final decision. Next, get in touch with at least three and preferably four hot tub installers in your area to receive price estimates for the job.
Experts advise people to shop around for the best price on home improvement work before committing to a contractor. This can help you find the most qualified professional at the most reasonable cost.
If you want to know how much the hot tub installation will cost, you may have to consult a professional installer or check on the internet.
Thank you for reading our Hot Tub size chart article. We hope this article has guided you through the whole process of purchasing till the end of the hot tub installation.
Picture in this post is by Dimitris Kiriakakis on Unsplash
Related to Hot Tub Size Chart