Nolan Helmets Sizes
The size of the Nolan helmets is usually the last thing on your mind when you enter a motorcycle accessory store. The helmet's appearance ultimately determines whether or not you decide to purchase it. But if you want to buy a helmet with the best safety features, that is not the wisest course of action.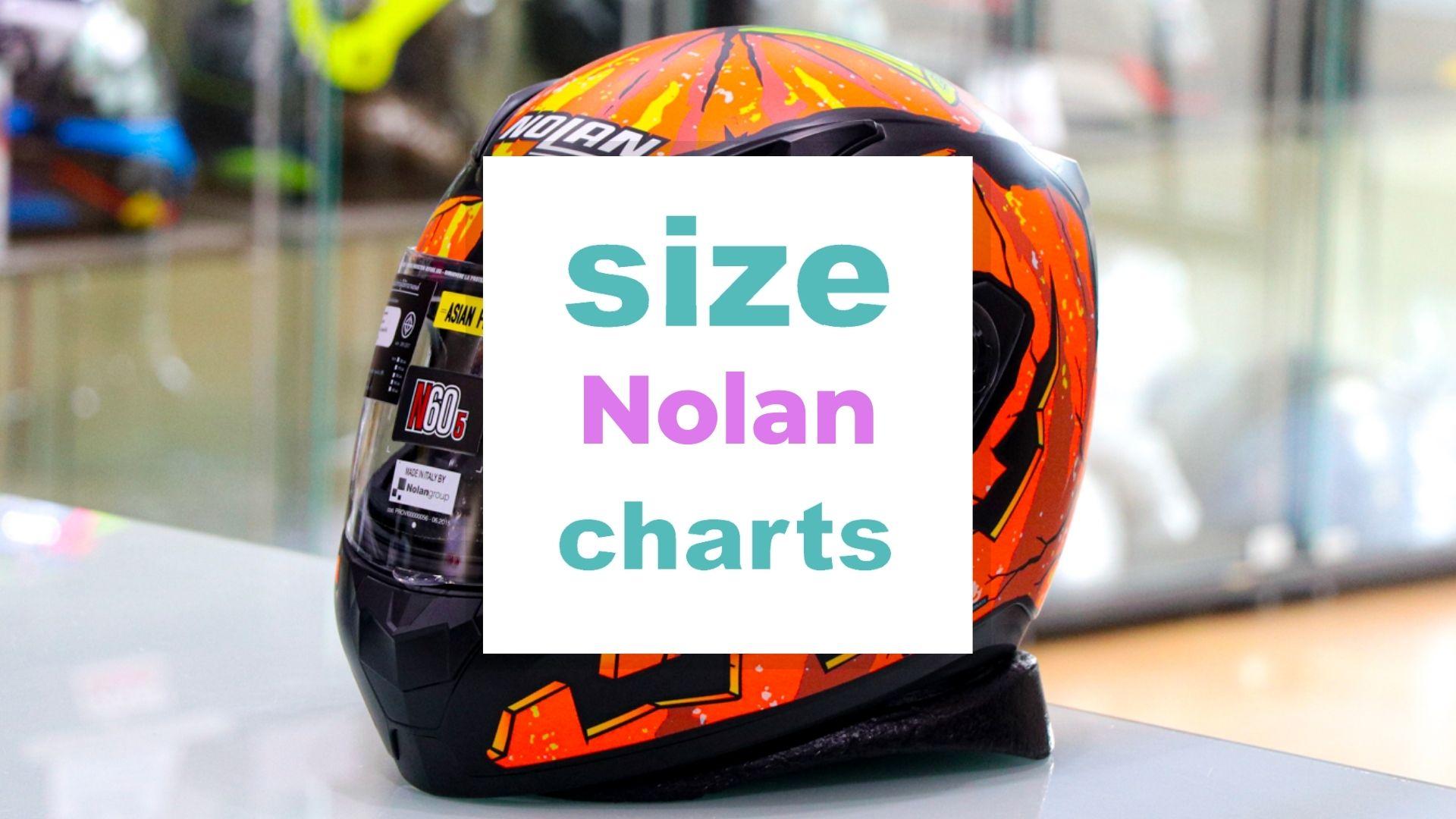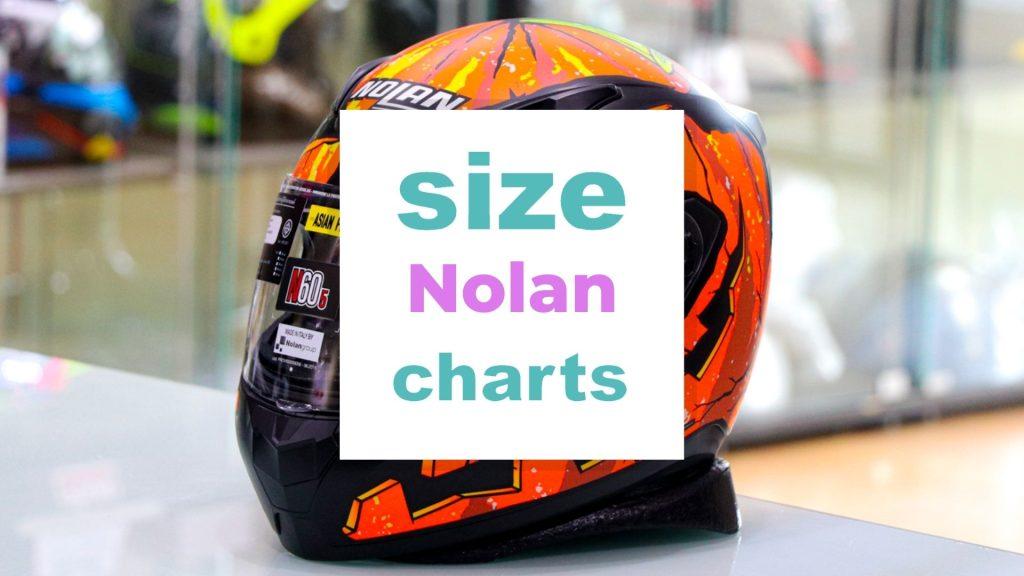 This is because if the helmet does not fit tightly, there is a good chance that it will come off during impact, leaving your head exposed to the tarmac's harsh surface. Here, we'll look at the many sizes that are available to you and evaluate the key justifications for getting the correct size helmet.
Jump right into the Frequently Asked Questions
Related: Arai Helmets Sizes
Nolan Helmets Sizes Table of Contents
Nolan Helmets Size Chart
Related: AGV Helmets Sizes
N100-5 | N104A Nolan Helmet Size Chart
| | | | | | | | | |
| --- | --- | --- | --- | --- | --- | --- | --- | --- |
| Size | 2XS | XS | S | M | L | XL | 2XL | 3XL |
| Centimeters | 54 | 55 | 56 | 58 | 59/60 | 61 | 63 | 65 |
| Inches | 21 ¼ | 21 ⅝ | 22 | 22 ¾ | 23 ½ | 24 | 24 ¾ | 25 ½ |
N9levo | N40-5 | N40 Nolan Helmet Size Chart
| | | | | | | | |
| --- | --- | --- | --- | --- | --- | --- | --- |
| Size | 2XS | XS | S | M | L | XL | 2XL |
| Centimeters | 54 | 55 | 56 | 58 | 60 | 62 | 63 |
| Inches | 21 ¼ | 21 ⅝ | 22 | 22 ¾ | 23 ½ | 24 ⅜ | 24 ¾ |
N87 | N44evo Nolan Helmet Size Chart
| | | | | | | | | |
| --- | --- | --- | --- | --- | --- | --- | --- | --- |
| Size | 2XS | XS | S | M | L | XL | 2XL | 3XL |
| Centimeters | 54 | 55 | 56 | 58 | 60 | 62 | 64 | 65 |
| Inches | 21 ¼ | 21 ⅝ | 22 | 22 ¾ | 23 ½ | 24 ⅜ | 25 ¾ | 25 ½ |
How To Choose The Right Nolan Helmets
Related: LS2 Helmets Sizes
Purchasing Nolan helmets involves more than just choosing a paint job and pricing. Helmets have developed into quite sophisticated pieces of gear that genuinely mean the difference between life and death. Modern designs incorporate safety elements like weight reduction and comfort-engineered ventilation, all the way up to impact-absorbing MIPS technology that cradles your head in a fall.
Even the safest motorcycle helmet in the world won't protect you if it doesn't fit properly or if it is not comfortable to wear. We'll break down Nolan helmet designs, sizing, fits, and how to choose the ideal one to help you sort through the seemingly endless possibilities for head protection.
Your choice of motorbike helmet style is frequently determined by the vehicle you ride. You'll probably be alright with an open-face lid if you're scootering around while backpacking and going to and from the beach. A light, well-ventilated dirt helmet is ideal for riding largely single-track on a dirt bike. The full-face, modular, and dual-sport helmets are typically used by adventure riders who travel both highways and back roads.
How To Measure Nolan Helmets Size
Related: Shoei Helmets Sizes
The danger of a head impact during an accident resulting in a major injury or death can be greatly decreased by wearing a motorcycle helmet that fits properly. So, here's how to measure your ideal Nolan helmets size:
Use a flexible tape measure to calculate the circumference of the broadest portion of your skull. Typically, the region 2.5 cm (1″) above the eyes and ears is where a person's head is the widest.
Before consulting size charts, measuring at a few spots above and below that line is advised to ascertain the largest measurement.
Consider Wearing The Helmet
Helmets must fit comfortably, yet securely. Pull the helmet down over your head while holding the chin straps outside of the helmet, being careful to prevent the chin straps from rising inside the helmet.
A properly fitted helmet will feel snug and apply pressure to your head's top and sides pretty evenly. The liner on the majority of modern helmets is made to fit a bit snugly initially but will loosen up after a few hours of riding to conform to your specific head shape.
How To Find Your Nolan Helmets Size
Related: Bell helmet sizing chart – Helmet sizes for youth, women and men
After choosing a style, the first thing you need to consider is the fit. You must follow these steps when purchasing a helmet. In the case of a crash, motorcycle helmets are made to provide protection. On the road, it provides the most significant safety element. The best-fitted bike helmet that a rider can afford should be purchased.
Research is necessary before purchasing the helmet in order to understand the many features, designs, shapes, and best fit. The most common method for choosing a helmet size is to measure the diameter of your head.
Although getting a custom helmet fitted in-store is recommended. You must pick the right size if you don't want to spend a fortune on a lid that is uncomfortable at high speeds or doesn't fit properly.
Here's how to find the ideal helmet:
Shape Of Helmet
You need to consider the helmet's shape before determining the proper size. When choosing the right helmet, the rider's head shape is crucial. Every helmet maker makes its nutcase fit a specific type of head. The three most common head forms are long, medium, and round ovals.
Fit Of The Helmet
The first time you put on a motorcycle helmet, it should be snug on your head but not uncomfortable. The helmet shouldn't pressure your head or face, but it also shouldn't be able to move around freely.
The helmet will eventually become more comfortable and suit your head shape. It shouldn't become so thin that you can move your head from side to side.
Check out this video to learn more about different Nolan helmets models
Frequently Asked Questions
1. How do I know my Nolan helmet size?
To determine the right size for a helmet, wrap a measuring tape around the broadest part of your head (about 1 cm above the ears).
2. What size Nolan's helmet is 58cm?
A 58 in a Nolan helmet is a Medium size. Its dimensions in inches are 22 3/4.
3. Do Nolan's helmets run big?
No. Before purchasing the Nolan helmet, it is advised that you try it out first. To make sure it fits you completely, it is suggested to size it up slightly.
4. How many different sizes of outer shells in Nolan are there?
The Nolan helmet is only available in 2 shell sizes.
5. How can you tell whether a motorcycle helmet is too small?
The overall fit should be snug, but if you have pressure on the top of your skull and tightness on your forehead, it is too tight, and the size is too small for your head.
Conclusion
The bottom line is that a properly fitted helmet makes cycling safer and more comfortable. In a bad crash, a Too tightly fitted Nolan helmet can injure your head and only partially protect you. The helmet may fall off if it is excessively loose. So it makes sense to get a helmet that fits you perfectly. Hopefully, the Nolan helmet sizes chart above will be useful.
If you have any questions or concerns, feel free to leave a comment below.
Picture in this post is by Kenny Eliason on Unsplash
Related to Nolan Helmets Sizes