Foosball Table Size: What Are The Dimensions?
Foosball is a popular table game that has been around for centuries. The game is thought to have originated in Europe, and it is believed that the first foosball table was created in the early 1800s. The game quickly gained popularity, and by the early 1900s, foosball tables could be found in bars and cafes across Europe. The game eventually made its way to America, where it continue to grow in popularity (skip straight to the foosball table size chart).
Today, foosball is enjoyed by people of all ages around the world. Whether you're playing in a casual setting or in a competitive tournament, foosball is a great way to have some fun and test your skills.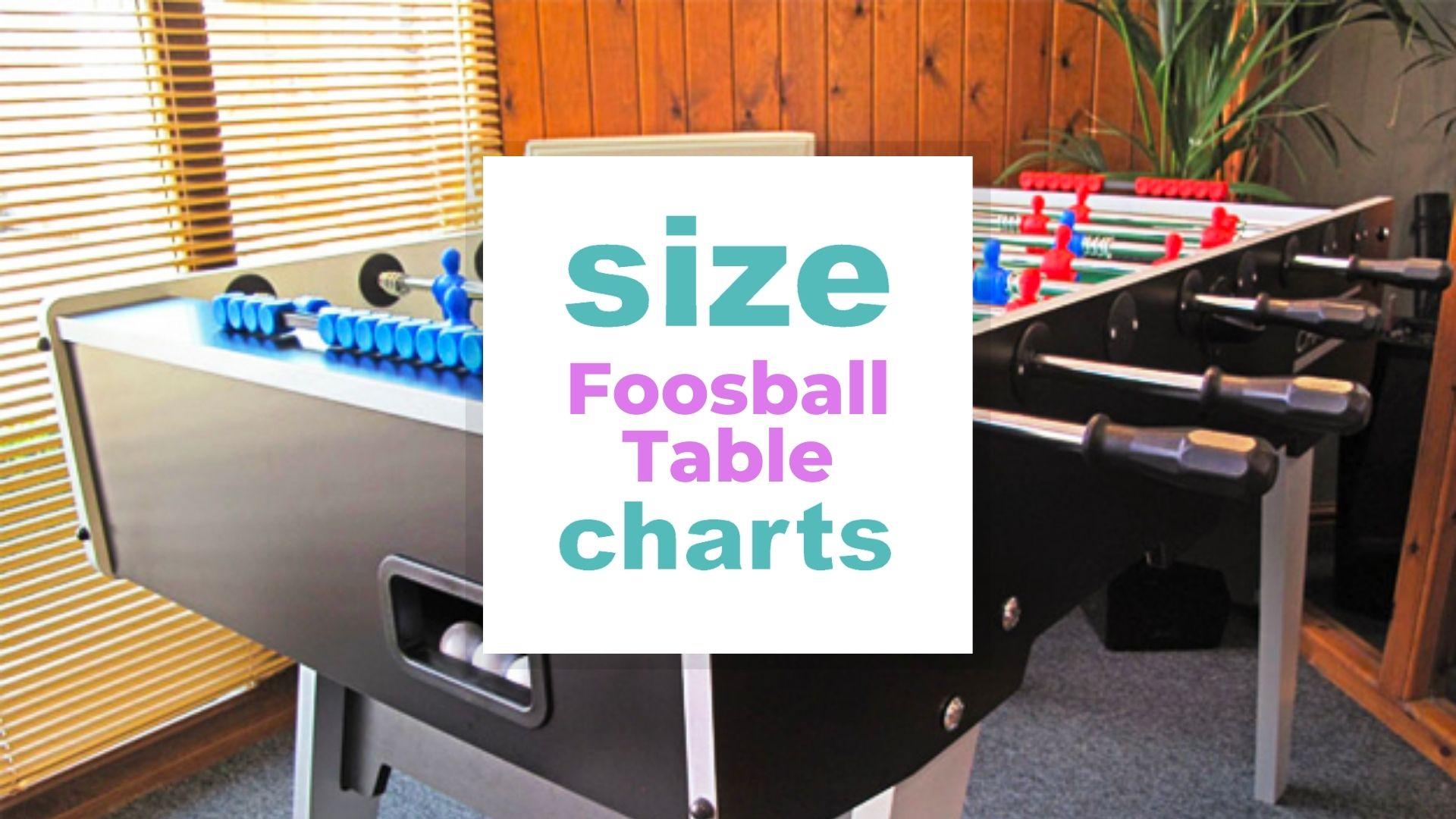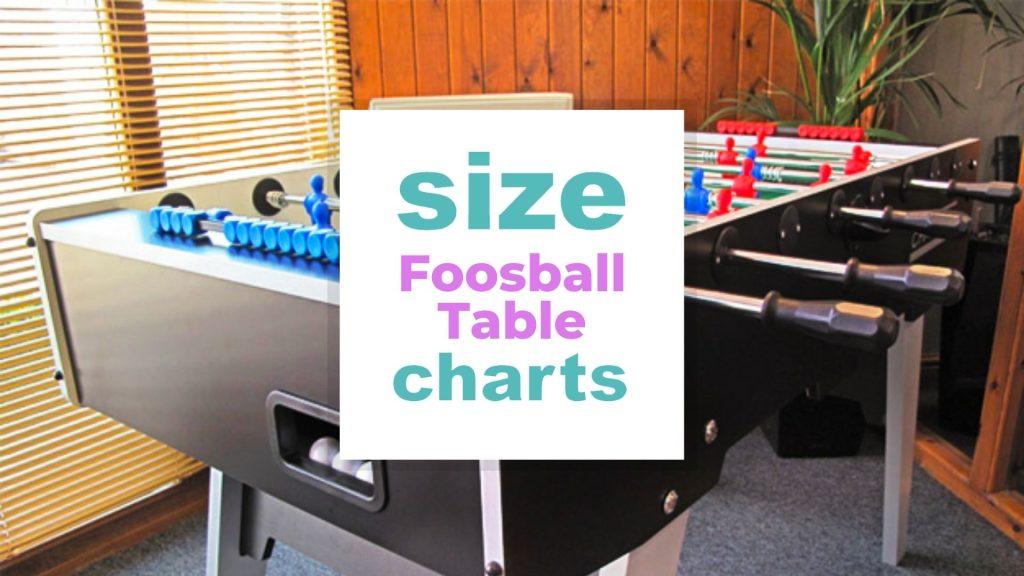 The football table standard sizes vary in different countries. This is why there are a plethora of foosball table sizes out there, going ahead to dominate international markets. Getting a perfect foosball table size is subjective to a few factors like the room space, the age of the player, and the player's preferences among others. While going for a standard size is good, it's even better to know what suits you and go for just that. Size comes in handy when the quality of the game is to be considered.
The next sections below will provide comprehensive answers to all the questions you might have regarding football tables and their sizes.
Jump right into the Frequently Asked Questions
Related: Playstation 5 Size: dimensions, weight and box comparison, Nerf Gun Size and Specs Guide, Ansi Paper Size Chart – North America paper Sizes And Formats, Crochet Hook Size Chart – A Handy Conversion Guide
Foosball Table Table of Contents
Foosball table size chart
Related: Poker Chip Size Guide
| | | |
| --- | --- | --- |
| Table | Dimensions ( L x W x H ) (inches) | Dimensions ( L x W x H ) (cm) |
| Full-size regulation | 30 x 56 x 36 | 76.2 x 142.24 x 91.44 |
| Standard foosball table | 60 x 30 x 36 | 152.4 x 76.2 x 91.44 |
| Tabletop foosball table | 40 x 20 x 10 | 101.6 x 50.8 x 25.4 |
| Foldable-size foosball table | 51.57 x 33.86 x 28 | 131 x 86 x 71.12 |
| Full-size football table | 60 x 30 x 36 | 152.4 x 76.2 x 91.44 |
Learn more about Foosball Table Size and more (video)
Frequently Asked Questions
How big is a full-size table football?
A full-size foosball table is 5 feet long and 2 ½ feet wide. Standard foosball tables come in different sizes, according to a country's culture of the game. Most tables' lengths range from 54 to 56 inches. Such small differences wouldn't at all compromise the quality of the game as they don't greatly affect the playing surface.
According to foosball table regulations, standard foosball table dimensions are 54 – 56 inches long, 29 – 30 inches wide, and 34 – 36 inches tall. This size is comfortable for adults and can be ideal for teens.
Your choice of a full-sized table should be informed by the amount of space you have and the number of players. For instance, a public football table cannot be smaller than a family table. If you have a big play space, standard table size is good to keep you going and more especially if friends keep knocking at your door for the game. On the other hand, a small room space could deny you the chance of getting a standard size, leading you to a foosball coffee table.
How big is the packaging of a football table?
Tornado foosball table dimensions are 56 inches long, 30 inches wide and 36 inches high with the following packaging dimensions: 59 inches long, 33 inches wide, and 17 inches of height. Such a foosball size would require 70 inches long, 41 inches wide, and 21 inches high shipping dimensions. In total, the table weighs 205 lbs.
The table comes with amazing features to elevate your game quality. Just to mention, its protruding rods are rubberized to ensure a tight grip and ease of rotating the rods for finesse scores.
Additionally, the table's perfect width and wooden material are curated to endure the pressure even when it is highly engaged for days on end. There are minimal chances of accidents even for young children who might find themselves in the playroom because the protruding rods are superimposed with rubber. While the table is among the best foosball tables for home use, it could still be a great option for public use.
If you're taking out a glass-topped foosball table, the size of the package and weight will obviously increase, requiring you to spend more. However, such a table is worth the money when durability comes into question. It will protect the inner parts of the table in case of unexpected accidents like drink spillage. However, it can be very vulnerable if played by freaks and in a public setting.
What football table is used in tournaments?
A professional or tournament-style foosball table. A professional foosball table size dimensions are 56" L X 30" W X 36" H with 1" thick and highly durable cabinets. The table comes with special features ideal for advanced players to show off their volleying skills and make extreme shots. Moreover, many competition tables are made of heavy strong wood to withstand heavy play.
According to the foosball regulation size guide, this is the most recommended foosball table size for adults.
Tournament tables approved by ITSF (the agency governing and regulating foosball soccer) should have a playing surface measuring 120cm long by 70.5cm wide.
The table will have to be within the spelled-out size requirements because it accommodates many players. There also needs to be enough space for competition foosball tables. If the table is 7 feet by 8 feet, you'd need a room space that's not smaller than 60 sq. feet.
Slightly different size regulations apply to tables designed for people with special needs. For instance, a table may have different leg support than the normal tournament table to accommodate players who use wheelchairs while playing.
What's the biggest foosball table?
The biggest foosball table is 137.75m long, 0.74m wide, and 0.87m high. The table, originating from China was made and first played in China's inaugural foosball championships and soared into Guinness World Records' books in September 2019.
The table can accommodate hundreds of advanced players and it takes an extraordinary player to make a single score.
What is the smallest foosball table?
The smallest foosball table has 27" long x 15" wide x 9" high dimensions. With such a size, you have a fun, budget-friendly way to relax your evenings away from social media. The table is suited to accompany you to literally any part of your house, including your coffee table or kitchen counter. It's very hard to place a soccer table in such places without leaving scratches but this size is a sure deal.
The table is made of sturdy MDF to give enough room for the most advanced of players to unleash their skills.
Conclusion
There are many different types of foosball tables on the market, so it's important to do your research before making a purchase. You'll want to consider the size of the table, the type of foosball game you want to play, and the quality of the materials. With so many choices available, you're sure to find the perfect foosball table for your home.
Otherwise Narrowing down to a good foosball table size will prove a walk in the park if you are going to stick by the above guidelines. Remember to be sure about your preferences and consult the charts we've provided.
That's all for now, and please don't hesitate to ask questions on anything that you might want help regarding football table size.
Picture in this post is by Bao Truong on Unsplash
Related to Foosball Table Size