Diamond Stud Earring Size Chart
This post was last updated on June 9th, 2023 at 11:24 am
What are diamond stud earrings, and why is diamond stud earring size important?
The average earring stud size? Diamond Stud earrings sizes will usually come in a range of carat weights between 0.25 CTW and 2.0 CTW. Depending on the cut and shape of the diamond, the size of these earrings may vary slightly. Generally, a 0.25 CTW round cut stud is about 3MM in diameter (0.11 inches.)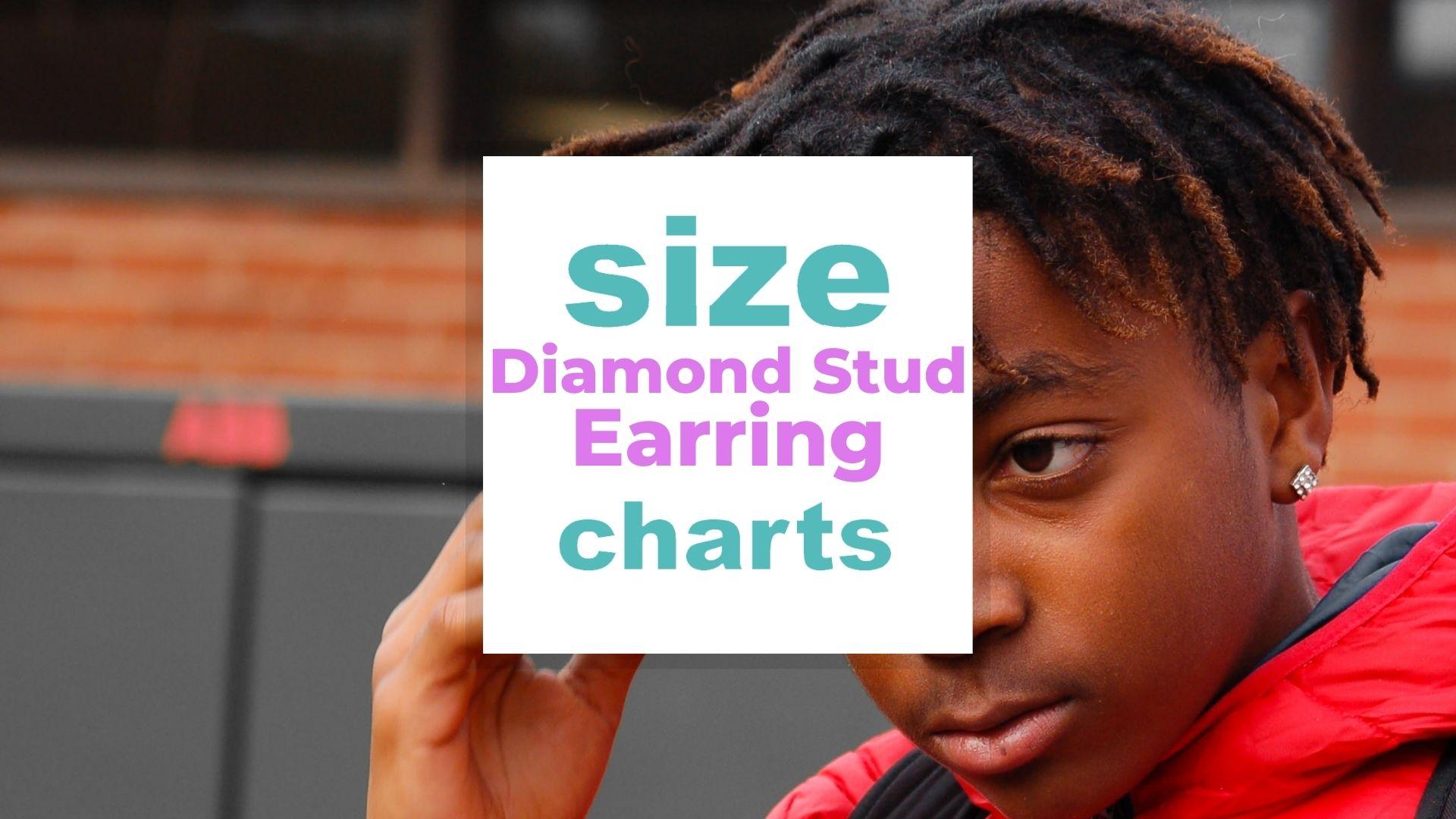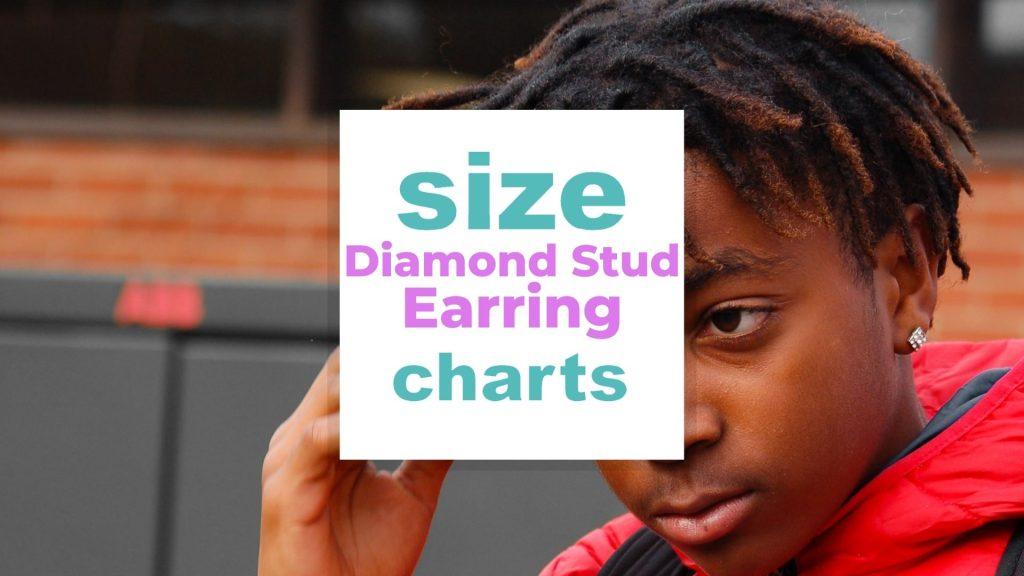 Diamonds are among the hardest materials on the planet. Thanks to their superior durability and attractive appearance, they are commonly used to make jewelry. Diamond stud earrings are a popular choice because they are simple and elegant.
Unfortunately, not all diamond proportions are the same, which is why selecting the right size for diamond stud earrings is crucial. Buying diamond stud earrings can be tricky, especially because they are more expensive than standard stud earrings. This means you'll need a comprehensive guide to ensure you buy the perfect pair within your budget. Going for the largest size won't always be practical since diamonds get pricier as size increases.
Diamond jewelry is an excellent choice for different occasions. You can wear a pair of diamond earrings for weddings, fashion shows, and any other occasion where you want to stand out. It's also okay to wear them every day, depending on personal preferences. Since diamonds are long-lasting, you can get them as an investment, like a family heirloom that you can pass on to loved ones.
It's also possible to buy a pair of studs as a gift for someone special to you. This could make the day more meaningful and memorable, which can help solidify your relationship. There are many reasons you could want a pair of earrings. In this post, we'll help you understand diamond stud sizing so that you make an exceptional choice.
Table of Content of Diamond Stud Earrings Size Chart
Diamond Stud Earrings Size Chart
Here's a size chart for diamond stud earrings in carats and millimeters.
| Total carat weight for pair | Carat weight for each | Size of each in mm |
| --- | --- | --- |
| 2.00 ctw | 1.00 carat each | 6.5 mm |
| 1.50 ctw | 0.75 carat each | 5.8 mm |
| 1.25 ctw | 0.62 carat each | 5.55 mm |
| 1.00 ctw | 0.50 carat each | 5 mm |
| 0.75 ctw | 0.375 carat each | 4.67 mm |
| 0.62 ctw | 0.31 carat each | 4.3 mm |
| 0.50 ctw | 0.25 carat each | 4.1mm |
| 0.40 ctw | 0.20 carat each | 3.8 mm |
| 0.33 ctw | 0.165 carat each | 3.5 mm |
| 0.25 ctw | 0.125 carat each | 3.2 mm |
If you want to wear a single diamond stud, here's a size guide for you.
| Carat total weight of single stud | Size in millimeters |
| --- | --- |
| 1.00-carat tw. | 6.5 mm |
| 0.87-carat tw. | 6.0 mm |
| 0.75-carat tw. | 5.8 mm |
| 0.63-carat tw. | 5.55 mm |
| 0.50-carat tw. | 5 mm |
| 0.38-carat tw. | 4.67 mm |
| 0.31-carat tw. | 4.3 mm |
| 0.25-carat tw. | 4.1 mm |
| 0.20-carat tw. | 3.8 mm |
| 0.17-carat tw. | 3.5 mm |
| 0.13-carat tw. | 3.2 mm |
Comparison of diamond stud earring sizes explained
How to Choose the Right Size for Diamond Stud Earrings
There are many things you need to think about as you choose the right size for diamond stud earrings. The first consideration is whether you want a natural or synthetic pair of diamond studs. Natural diamonds are the ones that are mined from rocks, while lab-grown or synthetic diamonds are made in a laboratory. The type of diamond you want will determine its price.
Since artificial diamonds are cheaper than natural diamonds, you can get larger sizes at lower prices. However, if you are determined to go with natural diamonds, you should be ready for steeper costs.
The next thing to consider is the 4Cs of diamonds. These are:
Diamond carat
Diamond clarity
Diamond color
Diamond cut
Carat weight is the unit used to determine diamond stud size in mm. In terms of weight, a gram is made up of five carats. The larger the diamond, the more the carats, and the higher the price. The carat sizes will determine the visibility of the other Cs.
The clarity has the largest influence on diamond quality. Diamonds are graded according to different qualities, one of which is how clear they are. It's also known as diamond purity, and it varies from one diamond to another. Flawless diamonds are the most expensive and are completely free from any visible characteristics. An "eye flawless" diamond can be an excellent alternative since it won't have any defects you can see with the human eye, and it can be considerably cheaper. This can allow you to choose a larger diamond size without blowing your pockets.
Another essential consideration is the color of diamond stud earrings you want. Diamonds are also classified according to color using color grades. You can choose anything from colorless diamond studs to a black diamond pair. Naturally colored diamonds are very rare and thus quite costly. Here's a guide to the color scale of diamond stud earrings.
D-F represents the colorless diamonds
G-J represents a nearly colorless stone which is the most popular option.
K-M these have a faint hint of yellow
N-R is a group of light yellow diamonds
S-Z yellow gold color
You should also think about the diamond's cut. The cut is the appearance of the stone in terms of proportion, symmetry, and finish. It determines the shape and sparkle of your diamond studs. A brilliant-cut diamond will reflect a lot of light which will make it look shiny.
Now that you know about the 4 Cs let's talk about the different shapes of diamonds. Here's an overview of the most common shapes of diamond earrings.
Round brilliant diamonds – the most popular diamond shape
Cushion diamonds
Princess cut diamonds
Oval diamonds
Emerald cut diamonds
Radiant diamonds
Heart-shaped diamonds
Now that we've covered how you can choose high-quality diamonds let's consider some frequently asked questions.
How do I know what size my diamond earrings are?
When buying a pair of diamond earrings, it's important to remember that the weight is usually combined for both earrings. This is known as total carat weight, and it's the sum of the weight of each piece. For instance, a one-carat diamond stud pair is made of two 0.5-carat diamond studs.
Most people assume that the total carat weight represents the size of a single stud earring setting. But, the weight communicates the total number of carats in the pair. For better clarity on this, look at the size charts for diamond stud earrings in the previous section. You should also know that the shape of the diamond will also affect the measurements because different shapes are calibrated differently.
What size stud earrings for guys?
There isn't a one-fits-all size for men's diamond stud earrings. Some guys prefer wearing double diamond studs, while others go with single/solitaire studs. If you want everyday wear, you can go with an average-sized pair with 2- 0.50 carat diamonds.
The size of your ear lobe will also determine whether you need smaller or larger earrings. If you are wearing just one diamond stud, you can opt for a larger size like a 1.5-carat diamond earring, depending on your budget. Those with larger faces could go as high as 2 carat diamond stud earrings since they won't look too big.
What size stud earrings for women/wife?
One of the best jewelry gifts you can offer a lady is a pair of brilliant diamond studs. The exact size you choose is contingent on the preference of the wearer. Some women don't like the bulky feel of larger sizes of diamond stud pairs, while others do. You can choose a pair of standard diamond studs, or you can choose a pair with extra diamonds on the side if you want.
Your exact size depends on whether you'll wear them frequently or occasionally. 1-carat diamond studs are the ideal size, but if you want a heavier pair, you should go with 1.5-carat diamond studs. Size alone won't be enough if you want to make a unique addition to your jewelry box. The four Cs will also have a stake in whether you find the perfect match for your intended look.
What are the best size diamond stud earrings for a second piercing?
If you want to wear multiple stud earrings, you'll need to carefully select the sizes to ensure you look alluring. You'll have to ensure the size gets smaller as you move towards the back of the earlobe. While it's not a rule of thumb, you can cut down the weight of the second earring to half that of the first. For instance, a 0.5-carat diamond stud in the first hole should be complemented with a 0.25-carat stud in the second hole.
What is the most popular size of diamond stud earrings?
The most popular size of diamond stud earrings is a total carat weight of 1, translating to two 0.5 carat diamonds. Since the size you choose will primarily depend on your budget, you can go as small as you need as long as you get an excellent cut.
What is the 0.12-carat diamond earrings actual size?
A pair of 0.12-carat diamond stud earrings will feature two 0.6-carat diamonds on each ear. The diamond approximately measures between 3.1 – 3.3 mm.
Conclusion
Diamonds are rare and durable gems used to decorate different types of jewelry like diamond stud earrings. A pair of diamonds can be the perfect accessory for any type of occasion. They can help bring out the sparkle in your personality and style and set you apart from the general crowd. The first consideration to make is the right size for diamond stud earrings.
Diamonds are weighed in carats and measured in millimeters. A carat is a fraction of a gram, and the more carats in your earrings, the higher they will cost. Price is essential when considering the size of diamond stud earrings. The carats attributed to a pair of diamond earrings comprise the combined carats of each piece. So you'll wear half of the total carat weight on each ear.
The four Cs of classifying diamonds are carats, clarity, color, and cut, which are also crucial when buying a pair of studs. 1-carat diamond studs are considered the most popular size, which means wearing a 0.5-carat earring on each size. If you've found this content helpful, we'd appreciate your feedback in the comment section below. You can also pose any questions, and we'll get back to you in no time.
Related Ring and Jewelry size charts