New Balance 550 Size Chart
This post was last updated on March 19th, 2023 at 03:35 pm
New Balance Size Chart for Men's 550 sneakers
Here you'll find all about the perfect size for men New Balance 550 sneakers. This New Balance Size Chart page will help you out in finding your Shoe Size in Inches, or your New Balance Size in centimeters. Convert your New Balance Shoes size easy between US sizes, European sizes, or UK sizes.
How do New Balance 550 fit? Should You size up or down your New Balance Sneakers? In short, New Balance 550 fits great and are true to size. All questions answered on size-charts.com. Discover a very useful description How to measure your foot link or down this page in the handy how-to.
The general New Balance Shoes Size Chart page.
New Balance Size Chart Content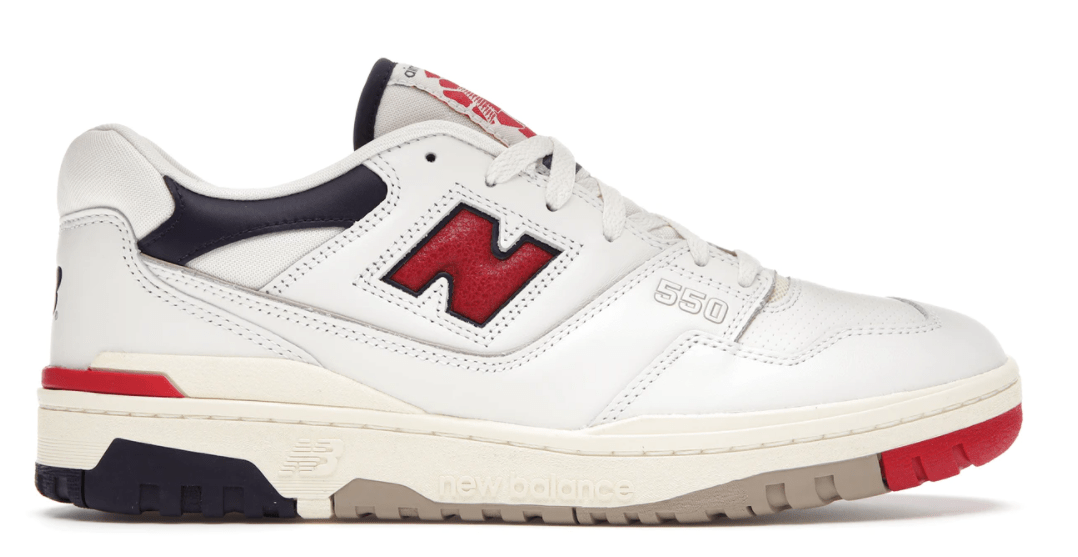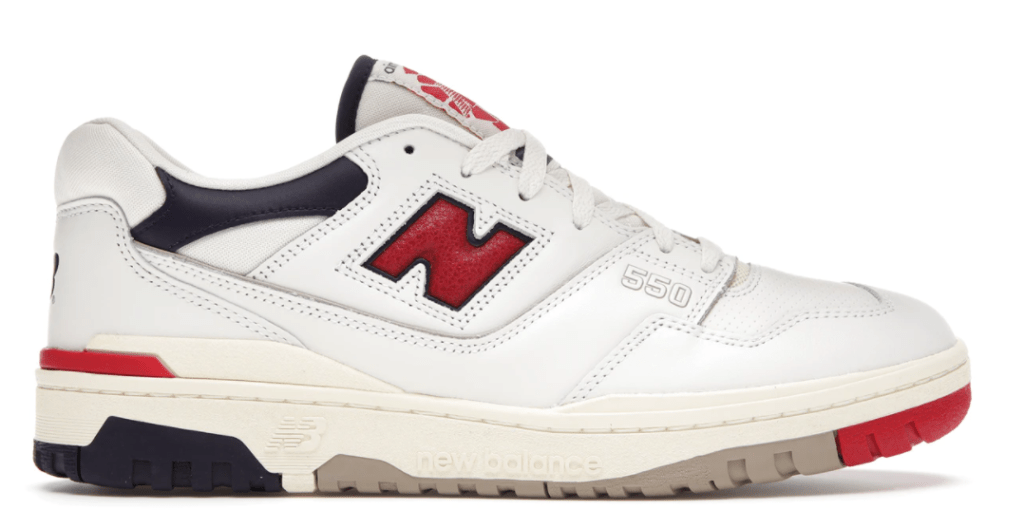 New Balance 550 Size Chart for Men
The men's New Balance 550 Size Chart with New Balance Shoe Size Conversion in UK sizes, US Sizes, and European Sizes.
NB 550 US Size
Heel – Toe
in Inches
Heel – Toe
in cm
UK Size
EU Size
6
9.2″
23.4 cm
5
38
6.5
9.5″
24.2 cm
5.5
38.5
7
9.7″
24.6 cm
6
39
7.5
9.8″
25.0 cm
6.5
40
8
10.0″
25.5 cm
7
40.5
8.5
10.2″
25.9 cm
7.5
41
9
10.4″
26.3 cm
8
42
9.5
10.5″
26.7 cm
8.5
42.5
10
10.7″
27.1 cm
9
43
10.5
10.9″
27.6 cm
9.5
44
11
11″
28.0 cm
10
44.5
11.5
11.2″
28.4 cm
10.5
45
12
11.3″
28.8 cm
11
46
12.5
11.5″
29.3 cm
11.5
46.5
13
11.7″
29.7 cm
12
47
14
12″
30.5 cm
13
48.5
15
12.4″
31.4 cm
14
49.5
16
12.7″
31.8 cm
15
51
New Balance Size Chart for Men, by size-charts.com
New Balance 550 Width Size chart for Men's Shoes
New Balance does things the simple way. Unfortunately, there's no specification of foot width compared to size. But, since New Balance fits true to size, it's easy to assume your most common width size fit will suffice.
New Balance 550 fits standard or Medium width , size D
| | | | | | |
| --- | --- | --- | --- | --- | --- |
| Extra Narrow | Narrow | Standard or Medium | Wide | Extra Wide | Extra-Extra-Wide |
| AA/2A | B | D | EE/2E | EEEE/4E | 6E |
New Balance men shoe width Size Chart
Extra Tip: If you take "EEE" in any shoe, that's the same as EE/2E for New Balance.
New Balance men's size to women's size conversion
Unisex products run in men's sizes only. Women should order 1.5 sizes down from their usual size.
| New Balance MEN US SIZE | New Balance WOMEN US SIZE |
| --- | --- |
| 4 | 5.5 |
| 4.5 | 6 |
| 5 | 6.5 |
| 5.5 | 7 |
| 6 | 7.5 |
| 6.5 | 8 |
| 7 | 8.5 |
| 7.5 | 9 |
| 8 | 9.5 |
New Balance Size Chart for Unisex shoes: New Balance men's size to women's size, by size-charts.com
How to measure your New Balance shoe size?
Probably you don't feel like reading this full New Balance Size Chart page or quickly want to measure your feet.
Follow these easy steps to get the right size for your New Balance Shoes.
For the best fit, measure your feet at the end of the day.
Step on a piece of paper with your heel slightly touching a wall behind.
Wear socks you plan to wear in the shoes.
Мark the end of your longest toe on the paper (you might need a friend to help you) and measure from the wall to the marking.
Do the same for the other foot and compare measurements with our size chart to get the right size.
In between New Balance Sizes?
How is the fit of a New Balance sneaker? What if I'm in between sizes with my measurement? Your foot size measurement may be in between full sizes in the below New Balance Shoes Size Conversion Charts. No Panic.
Most new balance sneakers or shoes come in half sizes…so you will always find the size that fits. Start from the measurements in cm or inches and convert to your size.
Measure your perfect New Balance 550 Size
How do I know my NB 550 size?
Time needed: 5 minutes
How do New Balance 550s fit and how to define the perfect fitting New Balance Shoes Size?
10 easy steps to measure your feet correctly:
Measure your feet in the afternoon.
Stand When Measuring (you can skip this step for toddlers)

When you're in a wheelchair, you can perform this step while seated

Wear socks
Be precise
Measure both feet
Stand on your piece of paper
Start drawing
Measure the length of your feet
Find your width fitting by drawing or with measuring tape
Determine your New Balance 550 size in the New Balance Size charts

Check them here for Men
New Balance 550 Sizes explained (video)
New Balance 550 Size Chart Fitting and FAQ
Are New Balance 550 true to size?
New Balance sneakers and shoes tend to run true to size. You can take your normal size. … Sneakers are offered in half sizes, which enables you to find the closest fit possible without having to size up or down
Is New Balance 550 Size the same as Nike Shoes Size?
New Balance 550 Sizes are smaller than Nike for the same US size. For instance, if you have a US 10 in Nike, then that converts into CM 27.1 – so when buying a pair of New Balance shoe, buy the 27 or 27.5 CM size. Because if you buy a US 10 in New Balance, that's 28 CM – . This is why you should always reference the CM size when switching brands.
How to clean your New Balance 550 sneakers?
The New Balance Sneakers are made for active living, so they're likely to get dirty. On the whole, they're super durable and low maintenance.
Carefully remove the insoles and laces from your New Balance – insoles SHOULD NOT go into the washing machine. Put the shoes in the washing machine on the delicates cycle (cold water). The Laces can be washed using a linen bag or by hand for the best result. Use a gentle detergent and avoid bleach at all costs.
Do NOT tumble dry – air dry your New Balance Shoes. Reinsert the insole and laces and get on with your day.
Our main preference is to clean your sneakers by hand, in a bowl with water and soft detergent, cleaning with a brush and a wet cloth.
Are New Balance 550 wide or narrow?
New Balance 550 ore regular width. If you have wide feet, try half a size up. Many New Balance shoes come in regular width, which is a perfect fit for all sizes. Feet come in all shapes and sizes. New Balance knows this and makes many of their shoes in a narrow, medium, and wide width.
Photo in this post by Icee Dc on Unsplash
More Great shoe brand size charts