Fishing Rod Length Guide – The Complete Guide
This post was last updated on June 9th, 2023 at 11:45 am
Finding the right fishing rod length is great for a starter as for experienced fishing enthusiasts. The length of a fishing rod typically ranges from 7-12 feet. Using shorter rods allows for more accurate casts.
All about Fishing gear sizes you can find here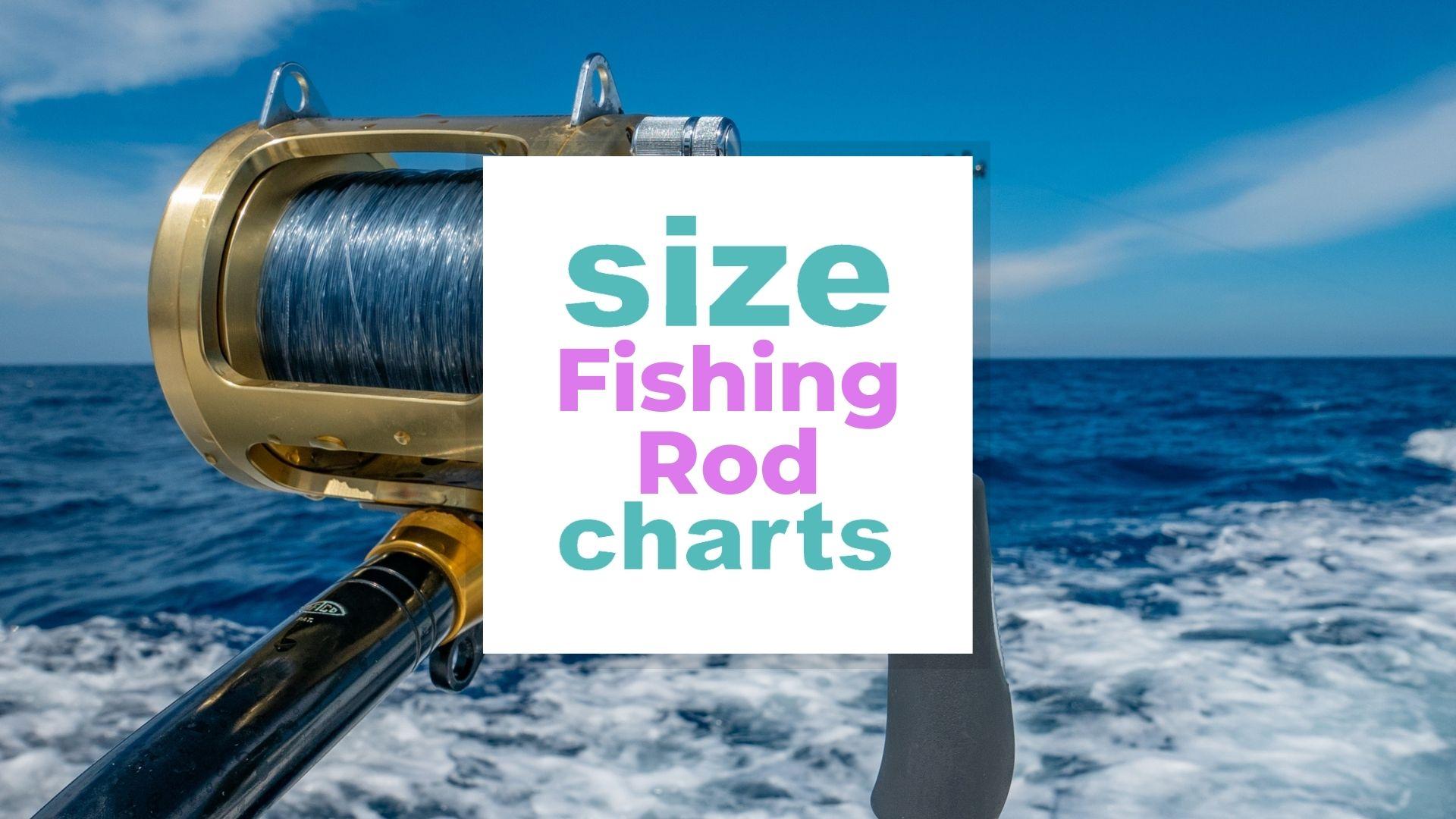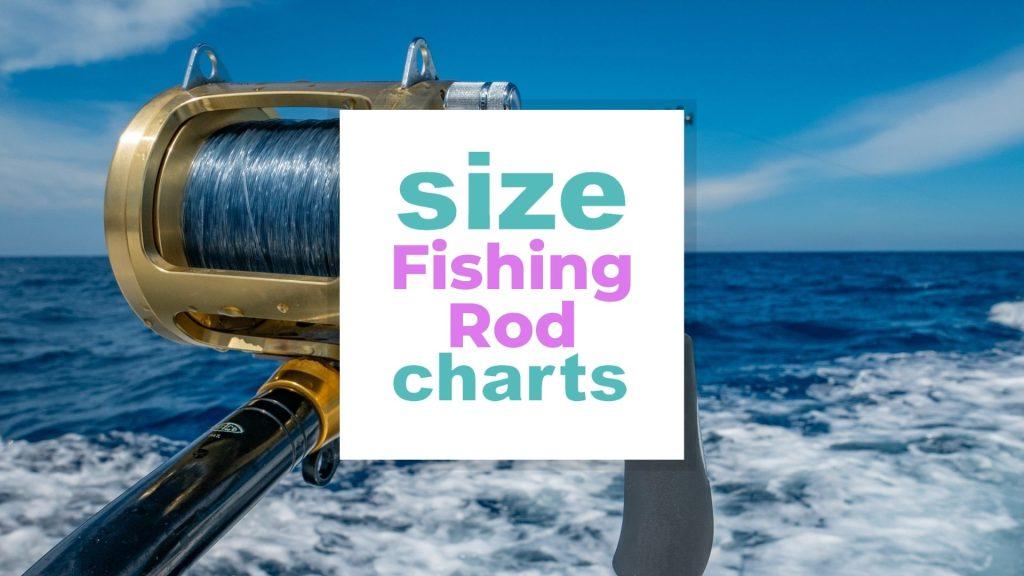 Table of Content of Fishing Rod Length Guide
The Right Fishing Rod Length Is Important
Anyone who has ever tried out fishing before would understand that the right fishing rod length is needed to have the best fishing experience. Determining factors could range from the type of fishing rods to acquire, to baits, to manufacturing brands, the pros and cons of acquiring a fishing rod and much more.
There are diverse types of rods for different purposes, and this can be very confusing especially for people who are just starting out with fishing. This article on fishing rod will espouse the different types of rod, features to look out for when shopping and tips on how to catch the best fishes.
What length should my fishing rod be?
Your rod's length is crucial. The length of a fishing pole depends on the thickness of the line. A thicker line will be more sensitive. A short rod is better for detecting bait. A longer one will be better for hunting larger fish. The length of a fishing pole should also be considered when determining the size of your boat. The maximum size of the boat you plan to fish with should be about four feet long.
The length of your fishing rod is a personal choice, but a longer one is better if you're tall. The length will affect your leverage, distance, and accuracy. As a general rule, a longer rod will be more comfortable and easier to bend. However, you should always consider the size of your body when choosing the right rod. If you are not tall, a shorter one will be the best option for you.
How do you size a fishing rod
As already indicated, before purchasing a fishing rod, you need to determine the length of the rod. The length is the most important factor for the performance of the rod, and also for the comfort of the angler. Most modern fishing poles are between five and nine feet long, and the majority are between six and seven feet in length. Choosing a rod based on its length is essential to a successful fishing experience.
The weight of a fishing rod is often referred to as the power. A heavier rod can handle larger fish, while a light one is best for smaller fish. If you plan to use a heavier line, it is best to go with a heavy rod. A lighter, less powerful line is better suited to a light rod. Always stick to the markings on the blank to avoid damaging the sensitivity of the fishing line or snapping the line.
The longer the rod, the longer the distance you can cast. On the other hand, a shorter fishing rod provides better leverage. If you plan to cast a long line to fish from shore, you'll want to choose a medium-action rod. You can also adjust the action of the fishing reel to suit your specific needs. You can also choose between a fast-action and a slow-action rod.
Fishing rod length by type of fish
Fishing rod length size chart
A fishing rod size chart will help you choose the right rod for your needs. There are many different sizes to choose from, and a rod that is too large or too small will not perform as well if your needs are not on the extreme ends. If you want to be able to cast far in the water, for example, a medium-heavy spinning-type rod is the best choice. It will handle lines from ten pounds to fifteen pounds and lures from a quarter-ounce to a full ounce.Once you know your preferences, it's time to start shopping for the right size. Power rods are the most common. However, if you're fishing for frogs, jigs, or topwaters, you'll want to consider purchasing a lighter rod. These rods require less bend and are better for casting larger lures, such as worms. Those that are too short won't do the job at all.
Remember, a long rod won't fit all types of fish. A medium-heavy power rod is best for bass fishing. Extra-heavy power rods are best for fishing close to cover, when the line is longer, or when jigs are too large to cast. You should always check the size chart to make sure you have the right rod for your fishing style. While you're at it, try to get a test run of several types of fishing rods to ensure you choose the right length for you.
Check out this example; a fly fishing rod size chart
Length
Line Weight

Material

Tippets

Dry Fly Size

Suitability

FT
INCHES
CM
7ft-8ft
84-96
213-243
2oz-4oz
Graphite, Fiberglass
4X-8X
14-18
Delicate Fly
7ft-8ft
84-96
213-243
5oz
Graphite, Fiberglass
3X-7X
12-22
Delicate cast
8ft-9.5ft
96-114
243-290
6oz-7oz
Graphite, Fiberglass
0X-7X
8-20
Various
8.5ft-9.5ft
102-114
259-290
6oz-7oz
Graphite
+4X
4-3/0
Game fish (larger)
9ft-12ft
108-144
274-366
10oz-15oz
Graphite
+OX
2-4/0
Game fish (Larger)
Types of Fishing Rod
It is important to note that that there are different types of fishing rods for different fishing purposes. To have a fishing success at the sea, you have to have in your possession the best type of fishing rods. Thanks to advanced fishing technology, buyers have a wide variety of fishing rods to choose from.
1. Ultra-Light Fishing Rods
This type of fishing rod is thin, light weighted and about three to four feet long. It is fun to use when out on backpacking trips and camping as it is designed to catch smaller fishes. It is your typical boat fishing rod to carry along when you go on boat fishing. It is also one of the best fishing rods for kids between ages five and ten to use. Although, it is important to understand that it is often less durable and quite difficult to use over long casting distance and deeper waters.
2. Surf Fishing Rods (Surf Rods)
This particular fishing rod is often common for deep sea fishing. The rods and reels are usually big and heavy, and therefore perfect for fighting the biggest fish in the sea. Surf rod can only be used by experienced fishers and not durable for use in freshwater fishing.
3. Fly Fishing Rods
This type of fishing rod comes in different sizes and fishing rods length, and designed with a fly reel to capture almost every type of fish species there are. Fly rods are often much longer than the two types of fishing rods discussed above. This fishing rod has a wide range of length with the most common length being 9 feet and the longest 14 feet. Fly fishing rod are suitable for accurate casts over the sea and is a unique form of fishing. This fishing gear is not just for trout fishing in fresh water, it has great rod power and fishing lines that can be employed in a fishing tactic by beginners.
4. Baitcasting Rod
This fishing equipment is quite common among experienced fishing anglers as it offers a good accuracy when casting and even more fuller control in reeling in the fish. Bait fishing rods can be used for both saltwater and freshwater fishing. It is also very easy to use, just attach your line to the baitcasting reel and you are ready to go. The only drawback of this type of reel is that they don't offer much resistance against strong winds or currents. Another disadvantage is that if you need to stop reeling in the fish, you have to release the tension on the line manually. There is however no special baitcasting rod length, so be free to choose whichever length would serve your fishing situation.
5. Casting Reel Fishing Rods
Casting reels are the most popular choice amongst fishermen due to their versatility and ease of use. These fishing rods come in various lengths and sizes depending on what kind of fish you want to catch. Most of them are made from high quality materials like graphite, fiberglass and carbon fiber. What more? It is suitable for use for beginners and children, and has a good fishing line capacity.
6. Ice Fishing Rod
This is a common fishing rod specially designed for catching fish during winter months when ice is present in lakes and rivers. They are very lightweight and portable so you can easily take them anywhere. It is an excellent way to fight a huge fish under an ice hole. The ice fishing rod length is relatively small as it is usually about 7-9 ft range. It is well suited for casting lures vertically into an ice fishing hole.
Other options include bass rods, fast-action rods, telescopic fishing rod,
Fishing rod size chart
| Fishing rod type | Length range | Most used Rod length | Type op fishing |
| --- | --- | --- | --- |
| Spinning rod | 4'5″ to 9'5″ | 6′ to 7'5″ | Casting lures, bottom fishing, bobber fishing, live lining, surf fishing |
| Baitcasting rod | 5'5″ to 9′ | 6'5″ to 8′ | Casting lures or rigs |
| Fly fishing rod | 6′ to 10′ | 7′ to 9′ | Fly fishing |
| Surf casting rod | 9′ to 14′ | 10′ to 12′ | Surf fishing |
| Boat rod | 5′ to 7′ | 6′ to 6'6″ | Boat fishing |
| Trolling rod | 8′ to 14′ | 9′ to 11′ | Trolling |
| Ice fishing rod | 20″ to 48″ | 28″ to 36″ | Ice fishing |
Factors to Consider When Buying Fishing Rods
In deciding which type of fishing rod to buy, there are factors to be considered before making any purchases. A great fishing rod will be an excellent addition to any angler's arsenal. There are literally hundreds of different kinds of fishing rods available today, so choosing one that's best suited to you can be an overwhelming task.
1. Length
You may want to ask "does fishing rod length matter when choosing a fishing rod?" The answer is yes. Length of fishing rods has an important effect on fishing. Choosing the right fishing rod length for any given situation depends upon several factors including the species of fish you're planning to catch, the size of the hook you plan to use, and whether you'll be using live bait or light lures.
Longer rods typically make for longer casts, while the shorter rods gives fuller control but a limited casting accuracy. When kayak fishing for instance, you will need a fishing rod that is about 5-7ft long for shorter casts. For inshore saltwater fishing, a longer 8+ foot rod will be perfect for use in making longer casts in deep structure fishing. It is generally advisable for beginners to use a 7-Foot rod when starting out with fishing.
2. Rod Material
Rods made from different types of material perform differently depending upon their intended use. Fishing poles are usually made of graphite, fiberglass and composite; which is a mixture of both. Graphite rods are typically used for all-around fly fishing because they're light enough to cast but strong enough to withstand heavy loads.
Fiberglass rods are often used by Graphite rods and are very lightweight, so they create space for accurate casting. Fiberglass rods are strong and quite durable. They're inexpensive, and they're simple enough for beginners to get started right away.
3. Rigidity
Stiff rods tend to be stronger and cast smoother than flexible ones. They're usually better for fly fishing. They're easier to catch if you use them when fishing for bass than when trying to land one once you've caught it.
If they're not already broken, they'll be harder to use after dropping them into the water. Usually stiffer rods are more durable than softer ones but they are always flexible.
4. Weight
The heavier your fishing rod weight is, the longer it will cast. The more you practice casting with a heavy rod, the better you'll get at it. To learn how to deep cast like an expert and get excellent casting distance, you first must practice casting with a heavier rod than you're used to using.
It doesn't matter whether it's an eight foot or twelve foot pole; the heavier the pole, the easier it will become for you to learn this skill and overtime, you will get comfortable casting.
5. Fishing rod size
The size of your fishing rod is determined by the type of fish you plan to catch. There are different fishing rod type length and it is important to note that longer rods cast further than shorter ones. This guide on fishing rod is a valuable tip you should keep in mind when shopping.
The ideal bass fishing rod, for example, for when you are fishing for bass, is one with lighter lines from 4–6 feet. You'll however need to use heavier line if you want to cast farther than 6 feet.
6. Line type
Experienced anglers mostly make use of fluorocarbon or polyester lines for fishing in fresh water. Fluorocarbon is known to have less stretch property as compared to polyester, and this helps to make fishing fun as you can feel the hooked fish or not.
If you are considering saltwater fishing, polyester is the perfect fishing rod features to opt for when shopping. Why? It is not only highly buoyant, it casts when with most fishing reel.
7. Action
Action determines how much and the direction your rod will bend towards. Action also controls the speed at which the rid goes from loaded back to its original position. There are three main rod actions which are namely: heavy action, medium action and slow action. Heavy action fishing rods helps an angler to get better hook penetration into a fish mouth.
A typical example is the 7-foot-6 heavy action casting model employed by Impulse Rods in one of the brand's designs. Anglers can use medium action rods to fish both for small and large species with good control and hook setting ability. Fishing with this type of rod will allow a fisherman to catch fish in many different situations and for many different species.
Fishing Rod Lengths explained
Components of a Fishing Rod
A fishing rod is made up of different components and it is wise for you to be familiar with them before deciding on the type of fishing rod length and fishing style you want. The components are the same in all fishing rods but could vary according to manufacturer's preference.
1. Handle
The handle of the fishing rod is usually located next to the pole. They are usually made from cork materials or foam. This is to ensure a comfortable grip. Shorter handles allow anglers to make shorter casts than long ones because they require less effort. However, if fishing from shore, longer handles may be preferred since they're easier to hold when casting into deeper water.
2. Reel
Generally, fishing reels are crank reels attached to fishing rods for winding and storing fishing line. Traditional fishing reels were originally designed for use by fishermen who wanted to cast their lines into lakes, rivers, streams, ponds. All about fishing spinning reel sizes here
Other fishing rod parts include ferrule, butt, tip top, hook and so on.
Conclusion
Having considered the various factors you should look out for when shopping for fishing rods, you should also look out for the best manufacturers in the fishing rods and fishing reel parts categories. As there are various fishing rod brands, it will be in your best interest to lookout for the brand that will help you to achieve your goals—whatever it is— and give you an excellent experience at the waters.
Remember that different types of terrain require different rods. Depending on the style of fishing, a longer or shorter rod will be more accurate. If you have a specific length in mind, choose a rod with the desired action. A medium to slow rod is ideal for the majority of fishing. This will allow you to cast more accurately, which will give you better accuracy.
Do not hesitate to leave behind your thoughts and questions.
Picture in this post by Alan Bishop on Unsplash
Related Fishing size charts