Olympic Pool Size and Dimensions Explained
This post was last updated on May 12th, 2023 at 08:46 pm
All you need to know about the dimensions and regulations for a correct Olympic pool size. Length, width, and depth are all explained. Olympic size pools measure: 50 metres – 164 ft long , 25 metres – 82 ft wide, and a minimum of 2 metres or 6 ft deep. An Olympic pool holds 2.500.000 liters or 660,430 gallons of water.
Jump immediately to the Frequently asked questions
Olympic pools are usually larger than regular pools for international competition purposes. Adopting such pool measurements can be challenging without an accurate size chart. Fortunately, you can use our cheat sheet to identify all dimensions.
Learn all about Standard pool sizes by shape, Pools for residential use and their dimensions, or Community swimming pool sizes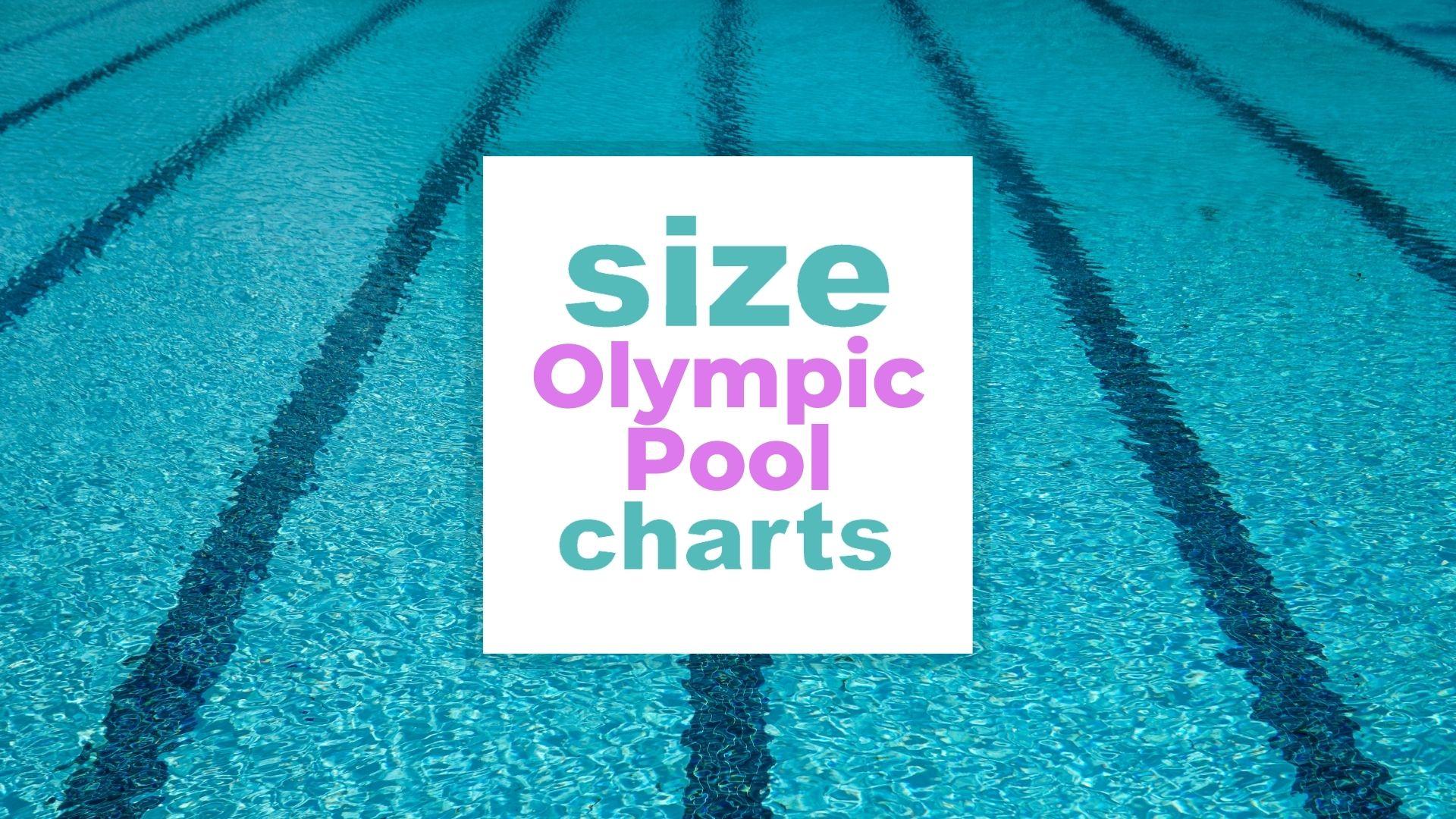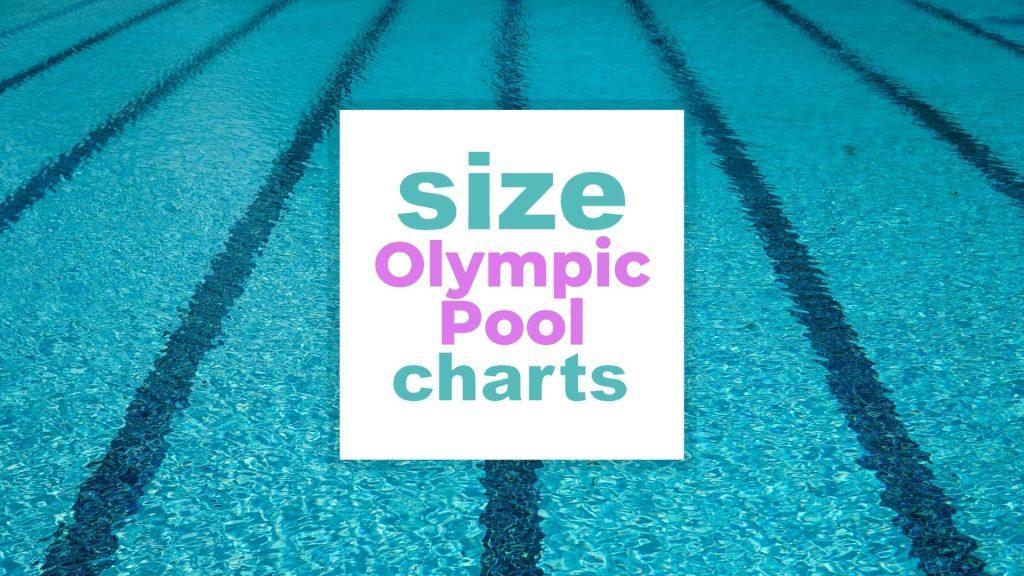 Introduction
What are Olympic pools, and why is a good Olympic Size important?
After watching Michael Phelp's or Kate Ledecky's multiple wins, you may begin to think Olympics pools are proximate to your normal pool. However, Olympic pools are different from regular swimming pools and are used for international competitions.
Usually, they attract international sportspersons and audiences. The race course length in these pools is 50 meters or 164 ft., commonly referred to as a long course.
Unlike the Olympic pool, other swimming pools are 25 meters long and accommodate a short course race. According to Fédération Internationale de Natation (FINA), if a competition decides to use touch panels, the pool must be 25 to 50 meters.
Want to learn more about the Olympic-size swimming pool requirements? Let's delve in!
Table of Content of Olympic Pool Sizes
Olympic Pool Size Chart
Olympic Pool Size Chart
| | |
| --- | --- |
| Physical property | Specified value |
| Length | 50 m 164 ft |
| Width | 25m 82 ft |
| Minimum Depth | 2 m 6 ft  |
| Recommended Depth | 3 m 9 ft |
| Number of lanes | 10 |
| Lane width | 2.5 m 8 ft 2 in |
| Water temperature | 25–28 °C 77–82 °F |
| Minimum Light intensity | 1500 lux  140 footcandles |
| Volume | 2,500,000 L 660,000 US gallons of water  2,500 m3  |
Semi-Olympic Pool Size Chart
| | |
| --- | --- |
| Pool Size | Measurement |
| Pool Length | 25 Meters 82.02 feet |
| Pool Length with panels | 25.01 to 25.02 meters 82.05 to 82.09 feet |
| Minimum depth | 1.80 meters 5.9 feet |
| Recommended depth | 2.00 meters 9.8 feet |
| Pool walls to swimming lane angle | 90 degrees with an allowance of ± 0.3 degrees |
| Swimmer's step | 1.2 meters below the water surface 3.9 feet below the water surface |
| Swimmer's step width | 0.1 to 0.15 meters 0.32 to 0.49 feet |
| Lane's width | 2.5 meters 8.2 feet |
| Number of lanes | 8 to 10 lanes |
| Distance between first/last lane and wall | 0.20 meters 0.66 feet |
How to Choose the Right Olympic Pool Size
With a variety of pool sizes, you are perhaps wondering how you will ensure you meet all the Olympic swimming pools' size measurements' requirements. Below are some of the things you should consider before building a pool for your institution or training sessions;
1. FINA Requirements
The International Olympic Committee recognizes FINA for the international administration of water sports. Hence, it follows all the FINA measurement requirements when building all its swimming pools for water games.
So, suppose you want to build a similar size pool for a water polo or swimming competition, you will need to adhere to all the different dimensions. FINA demands the pool construction to have 50 meters in length, 25 meters in width, and 2 meters in depth.
Whether you are building outdoor or indoor pools, you should ensure enough space between the walls and the first or last lanes. And if you decide to include touch pads, add between 0.01 to 0.02 meters to accommodate them.
2. Purpose
What's the purpose of your Olympic-sized swimming pool? Whether you are building competitive swimming pools or recreational pools, you have to ensure they serve the purpose exceptionally.
For instance, if the pool construction is aimed at helping swimming athletes train for competitions, the pool should have the necessary equipment, including touch pads, similar pool temperatures, and lane-wall distance, to avoid the water ripple effect on the swimmer.
3. Race Course
The type of race course the swimming athletes will be competing in determines the minimum distance of your pool. Hence, you must create 25 yards for the short race and 50 yards for long-distance races.
Don't forget to have a 90-degree angle between the pool walls and the swimming lanes. FINA allows an allowance of ± 0.3 degrees regardless of the type of pool course.
4. Affordability and Return
Whether you want to build a 25 or 50 yards pool, you must evaluate if it matches your budget requirements. Reason? If the pool is above what you can afford, you may have to delay the pool construction due to inadequate funds, wasting time.
Once you build the pool, you need to estimate its' returns to your company or institution. This will help you make profitable decisions like building a 25 yards pool instead of a 50-yard pool if the demand for swimming is not as high in your residence.
5. Additional Costs
Besides paying the initial capital for construction, you will need to hire a professional for the pool maintenance activities. Other people prefer having heated pools which can be pricy in the long run, especially if they carry a lot of water.
So, when choosing between a 25 or 50-yard Olympic competition pool, ensure you can afford to pay for the additional or recurring costs. This will ensure you operate efficiently and get maximum benefits from the pool.
FAQ on Olympic swimming pool sizes
Is 25 meter pool Olympic size?
A 25-meter pool is a semi-Olympic size, measuring half-length of an Olympic pool. Typically, it is used for short race courses.
How big is an Olympic size pool in square meters?
An Olympic size pool is 1250 square meters or 13,450 square feet.
Why are Olympic pools so deep?
Olympic pools are usually so deep to protect the swimming athletes from the waves that form in shallow waters. Preventing this hazard increases the swimmers' performance.
Are Olympic pools the same everywhere?
Olympic pools are the same everywhere except for a few measurements like the pool depth. FINA allows for 2 to 3 meters depth; hence some Olympic pools usually have a depth above 2 meters.
How cold are Olympic swimming pools?
For top performance, the Olympic pools must maintain a certain temperature range. Usually, between 25 to 28 degrees Celsius or 77 to 82.4 degrees Fahrenheit.
Public pools also maintain a temperature between 77 to 88 degrees Fahrenheit. This temperature keeps the swimmers' muscles warm enough, avoiding dehydration, overheating, and muscle cramps.
When a pool is above the maximum temperature requirements, it can cause overheating. On the other hand, when it's below the minimum temperature, it can result in cardiac arrest.
Who decides the swimming pool rules?
The Fédération Internationale de notation FINA handles all water sports rules and regulations. It also advises IOC to ensure the Olympics are a success.
FINA develops rules for water polo, synchronized swimming, high diving, open water swimming, and diving.
Olympic pool size explained (video)
Conclusion
Olympic swimming pools attract swimming athletes and audiences from all over the world. While the pools may seem close to the regular pools, they adapt to different measurements.
This is to ensure the athletes perform well while following world-class competition rules. You can use the Olympic size chart to ensure you adhere to the different measurement requirements.
Suppose you find it difficult to decide on specific parts of the pool construction, don't hesitate to ask for help in the comments below. Our professionals will guide you through the specifics!
Picture in this post by Marcelo Uva on Unsplash