Nike Soccer Ball Sizes
A Nike soccer ball is a big leather or plastic ball filled with air that is used in soccer games. Overall, the Nike Premier League skills ball is a fantastic tool. It's cheap without sacrificing quality. With this imitation Premier League ball, you can take a piece of the action off the field and feel you are playing the same ball as professional soccer players. Nike soccer ball's performance and longevity come from the combination of synthetic leather, rubber, cotton, and polyester.
The Nike soccer ball collection has excellent air retention which makes it an excellent ball for training.
Over the years, Nike has released innumerable variations of soccer balls. Nike produces balls in a variety of sizes to meet the needs of players of all ages. Nike manufactures a diverse selection of specialist soccer balls that can be utilized in indoor soccer, futsal, beach soccer, and other forms of the sport.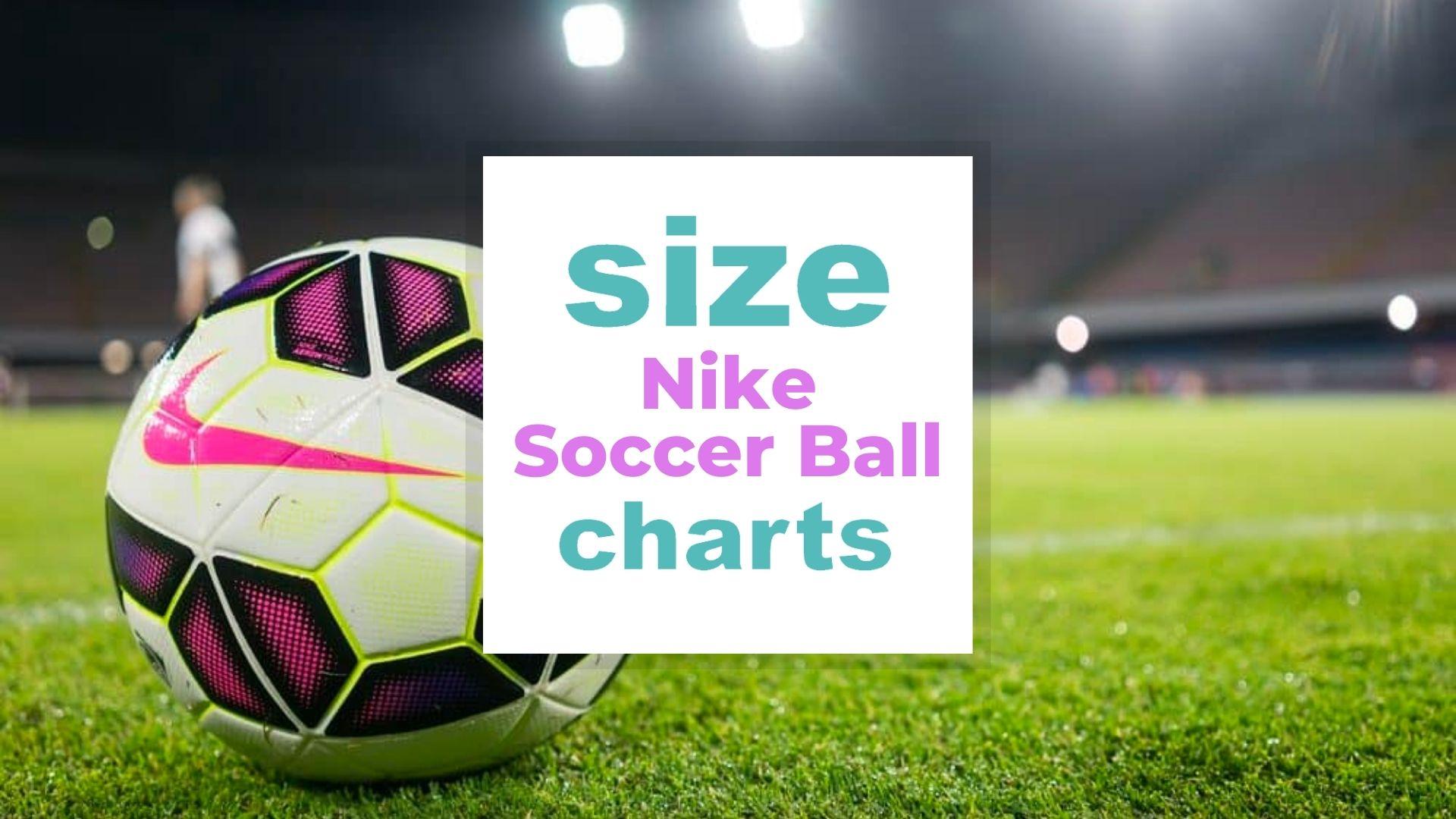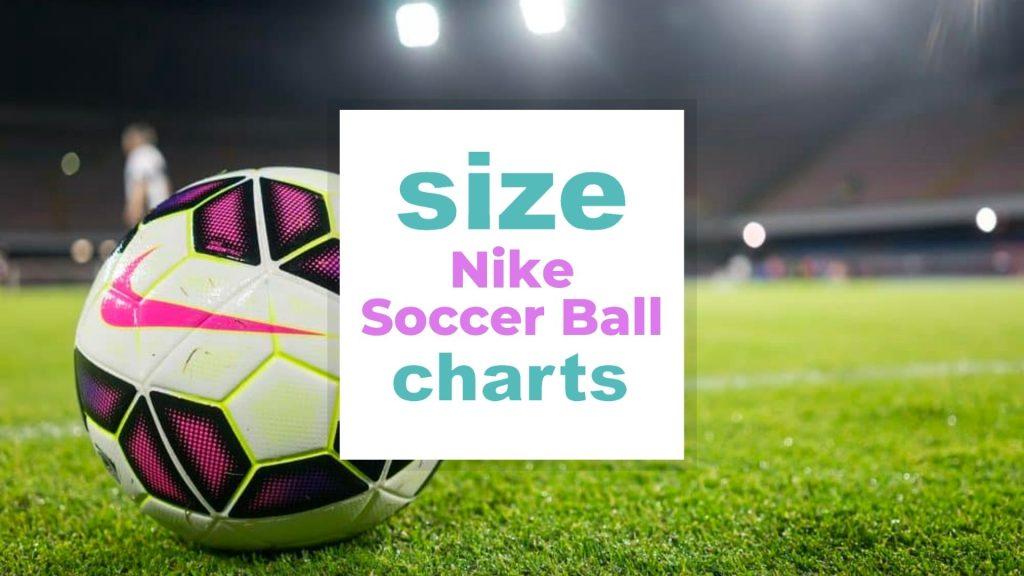 Many audiences are unaware of the important variations between outdoor and indoor soccer balls.
A futsal ball, for instance, is slightly smaller than a soccer ball used for official play. Because of the emphasis on pace and ground play in indoor soccer, the ball is made to sit low in the air. Using sturdy materials in the construction of the panels lessens their propensity to bounce or rebound.
It's harder to get a good swing going with a smaller ball. It gives the impression of more weight because of its hefty rigidity.
The most known Nike balls are Nike Premier League Strike Soccer Ball, Nike Merlin Soccer Ball, Nike Strike Football (White/Baltic Blue), Nike Mercurial Fade Soccer Ball, and Nike Unisex Academy Recreational Soccer Ball.
Jump right into the Frequently Asked Questions
Related: Football jersey size chart – find the right soccer jersey shirt size, Football field size and soccer field dimensions, Football Size Chart – Guide To Standard Football Ball Sizes
Nike soccer ball sizes Table of Contents
Nike Soccer ball size chart
Related: Soccerball Size Guide and Dimensions
| | | | | |
| --- | --- | --- | --- | --- |
| Size | 1 | 3 | 4 | 5 |
| Age |   | < 8 | 8 – 12 | 13+ |
| Circumference | 18 – 20 in 46 – 51 cm | 23 – 24 in 58.5 – 61 cm | 25 – 26 in 63.5 – 66 cm | 27 – 28 in 68 – 70 cm |
Size 1 – Best for skill training
Size 3 – Best for Junior
Size 4 – Best for Youth
Size 5 – Best for Adult
Nike soccer ball weight and size guide
Related: Volleyball Size Chart
| | | | | |
| --- | --- | --- | --- | --- |
|   | size 5 | size 4 | size 3 | size 1 |
| age | 12+ | 8 – 12 | <8 | all |
| age group | U9 – U12 | U8 | <U8 | – |
| circumference | 27 – 28 in 68 – 70 cm | 25 – 26 in 63.5 – 66 cm | 23 – 24 in 58.5 – 61 cm | 18 – 20 in 46 – 51 cm |
| weight | 14 – 16 oz 410 – 450 g | 12 – 14 oz 350 – 390 g | 10 – 11 oz 280 – 310 g | 6 – 7 oz 170 – 200 g |
How to choose the right Nike Soccer ball size
Related: Ball Size chart for exercising or for your office
4 Nike Soccer Ball Sizes
There are four distinct sizes of soccer balls, which are numbered 1 through 5. This number is printed both directly onto the ball and additionally on the package in some capacity. The smallest ball available is a size 1, and the largest available is a size 5. Sizes 3, 4, and 5 balls are likely to be the most widely accessible when you go to buy a new one.
Nike Size 5- The Standard size and the official Nike soccer size
A soccer ball must be a size 5, as it is the approved size. Size 5 balls are used in all games at the collegiate, professional, and collegiate levels. Players aged 12 and older are required to use size 5 equipment. It measures between 27 and 28 inches (68 and 70 centimeters) around and weighs about 14 and 16 ounces (400-450 g).
The professional competition requires a size 5 ball with a certain air pressure. To pass FIFA inspection, a ball's pressure should range between 8.7 to 16.0 psi (0.6-1.1 bar).
Nike Size 4 Soccer Ball
The size 4 ball is a tad bit smaller than the size 5 ball. It fits kids' shorter legs and smaller feet well. Because of its less weight, children will have an easier time moving it about with their feet. A size 4 Nike ball is recommended for children aged 8 to 12 years old. It weighs between 12 and 14 ounces and has a circumference that ranges from 25 to 26 inches (63.5 to 66 cm) (350-390 g).
Nike Size 3 Soccer Ball
The next one down is a size 3, which is only a tad bit smaller than a size 4 ball. This is the size that children who are in the youngest age group use when playing and practicing soccer. Children who are younger than 8 years old need to use a size 3 shoe. It measures 23-24 inches and weighs 11-12 ounces (300-340 g).
Nike Size 1 Skills Ball
The Nike size 1 soccer ball is the smallest size available and is often referred to as a "mini". It is seen much more common than size 2. Any player can use size 1 to improve footwork and ball control. It measures between 18 and 20 inches in circumference (46 – 51 cm).
Professional clubs frequently employed their little size, size as promotional objects that can either be sold or distributed for free.
Learn more about Nike soccer ball size and other specs (video)
Frequently asked questions
1. What are the sizes of Nike soccer balls?
| SIZE | CIRCUMFERENCE | AGE |
| --- | --- | --- |
| Size 1 (Skills Balls) | 46-51 cm 18–20 in | All ages: developing footwork skills/ball control |
| Size 3 (Junior) | 58.5-61 cm 23–24 in | 8 and younger |
| Size 4 (Youth) | 63.5-66 cm 25–26 in | Ages 8–12 |
| Size 5 (Adult) | 68-70 cm 27–28 in | Ages 13+ |
2. How do I know what size Nike soccer ball to buy?
The size of a soccer ball is directly proportional to the age of the players using it, however the size of child soccer balls varies by region and league, so it's important to double-check with your soccer league or organization. We recommend checking with your league or association to make sure you have the right size ball. Here are the sizes for age groups:
Size 5 – Adult soccer ball (U12+), ages 13+ | 27 – 28 in. (68 – 70 cm)
Size 4 – Youth (U8-U12), ages 8-12 | 25-26 inches. (63.5 – 66 cm)
Size 3 – Junior/kids soccer ball (U5-U8), ages < 8 | 23 – 24 in. (58.5 – 61 cm)
Size 1 – Skills training, all ages | 18-20 inches. (46 – 51 cm)
3. What's the biggest Nike Ball?
A Nike soccer ball size 5 is the biggest Nike ball. This measures 27- 28 in / 68 – 70 cm in ball circumference and it is an ideal ball for people above 13 years. A soccer ball is considered an official size when it measures up to a 5. A size 5 ball is used in all games at the collegiate and professional levels. It measures 27-28 inches (68–70 cm) in circumference and 14–16 ounces (400-450 g).

The official affordable ball size for professional games is size 5, and there is an air pressure requirement for these balls. In order for a ball to pass FIFA inspection, it needs to be inflated to a pressure range of 8.7-16.0 psi (0.6-1.1 bar). 
4. What is the smallest Nike Ball?
The Nike size 1 amazing soccer ball is the smallest size and is sometimes called a "mini." It's seen a lot more than size 2. Size 1 can help any player improve their footwork and how they handle the ball. Its circumference is between 18 and 20 inches (46 – 51 cm).
Professional clubs often used their small items as promotional items that they could either sell or give away for free.
5. Who Supplies The Footballs For The Premier League?
The Premier League uses soccer balls manufactured by Nike, which are the industry standard. Nike has been the official game ball partner of the league since the beginning of the 2000–2001 season.

This agreement is one of the domestic league ball partnerships that has been around the longest. It has been going on for more than 20 years and is sponsored by a single corporation for that entire time.
6. Which Soccer Ball Is the Best One to Use?
Because soccer balls are always being refined and improved, the best ball to play with is often the most recent version of the competition-grade ball that is used for the most important games and leagues.

Because preference is such an important factor, there is likely to be some disagreement regarding which ball is the best. You may find some of the finest contenders for each year by looking at the most recent ball used in the Champions League, Premier League, or MLS.
7. Are Nike Pitch Soccer Balls Good?
The Nike Pitch balls are specifically intended for use on the training field. They are made from butyl bladder, which ensures that they are long-lasting and durable, which is just what you need for consistent practice sessions.

These balls are extremely resilient, as they can withstand rips and abrasions without losing their shape. Although they do not perform quite as well as balls designed for competition, they are often more long-lasting.
Conclusion
Now, I want to make sure you have all the information you need to make an informed decision before you choose a ball.
Exactly what I mean is this…
Product delivery

Packaging plays an important role in this sector of the soccer merchandise business. Most soccer balls are transported deflated, so if yours arrives that way, don't worry; that's how they're usually shipped. I've come across circumstances in which customers have received a ball with no packaging or in which the packaging was so rough that it damaged the ball by shredding it or loosening its seams.
You should look for testimonials that specifically state the balls came in clear plastic bags or any other type of eco-friendly packaging. The ball's construction obviously needs to be of the greatest caliber to ensure its longevity. After all, there's no use in purchasing a soccer ball if it won't last long enough for your needs. In order to maximize their profit margins at the expense of the client, some manufacturers would employ inferior materials in the ball's creation.
Positive customer reviews of the best Nike soccer balls

Finally, don't judge the quality of a Nike soccer ball by the number of five-star reviews. This is a choice you'll likely come to deeply regret. Quality, not quantity, is what matters. Choosing a ball with a few reviews but no big complaints or worries is preferable to one with hundreds of positive reviews but multiple instances of disappointment and demands for refunds.
If you enjoyed reading our article kindly share. Also, for questions concerning Nike soccer ball size kindly leave them in the comment section. Thank You!
Picture in this post is by Nigel Msipa on Unsplash
Related to Ball sizes