Snibbs Shoe Size Chart
This post was last updated on August 29th, 2023 at 04:14 pm
Snibbs is a shoe brand born in 2015 by a collaborative effort of Chef Daniel Shemtob, Dr. Snibbe, and Haik Zadoyan. The brand was established to solve the need for reliable, sustainable, and comfortable work shoes. It's among the best footwear brands for workers like nurses, doctors, barbers, chefs, teachers, and more (skip straight to the Snibbs shoe size charts).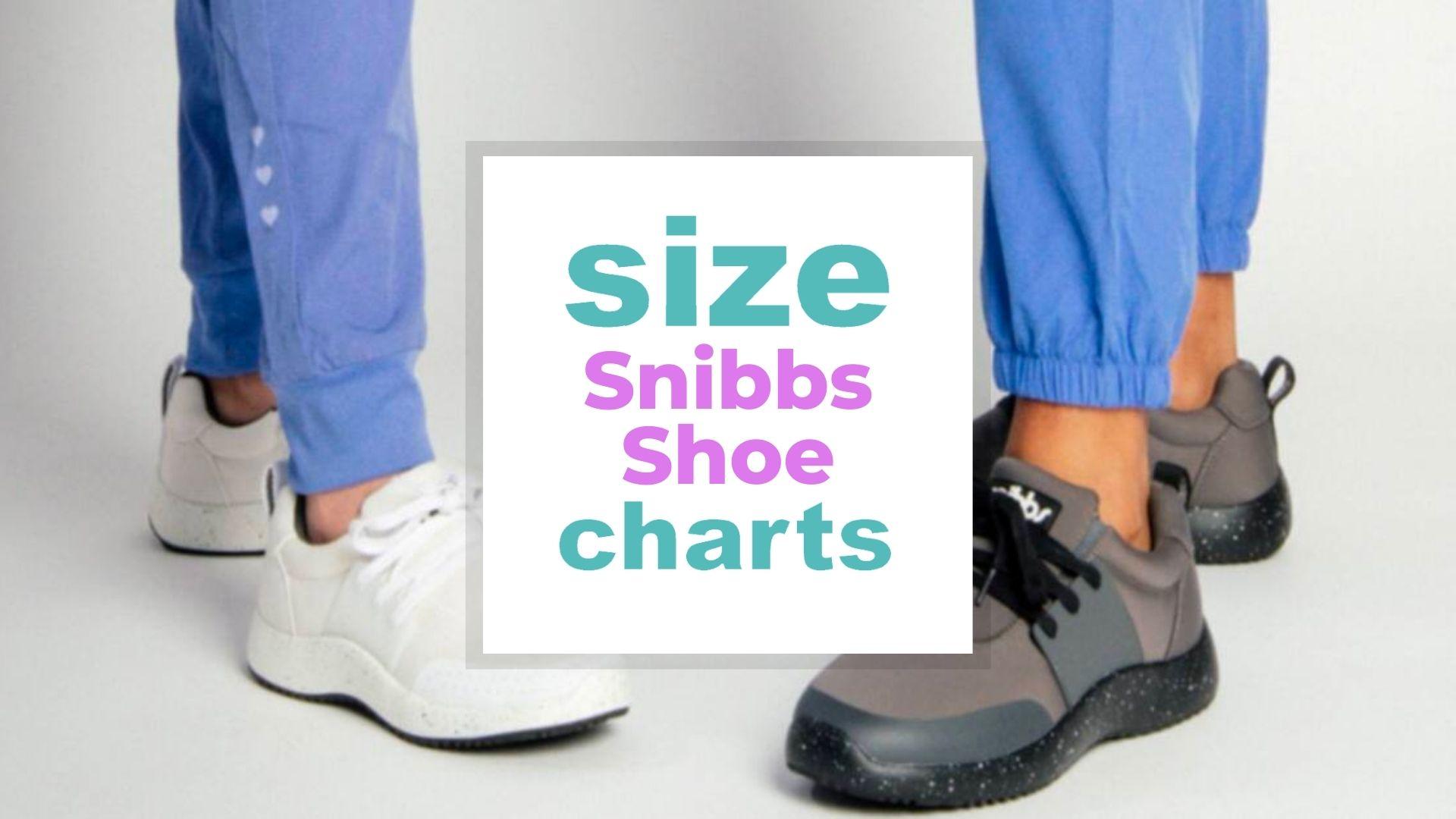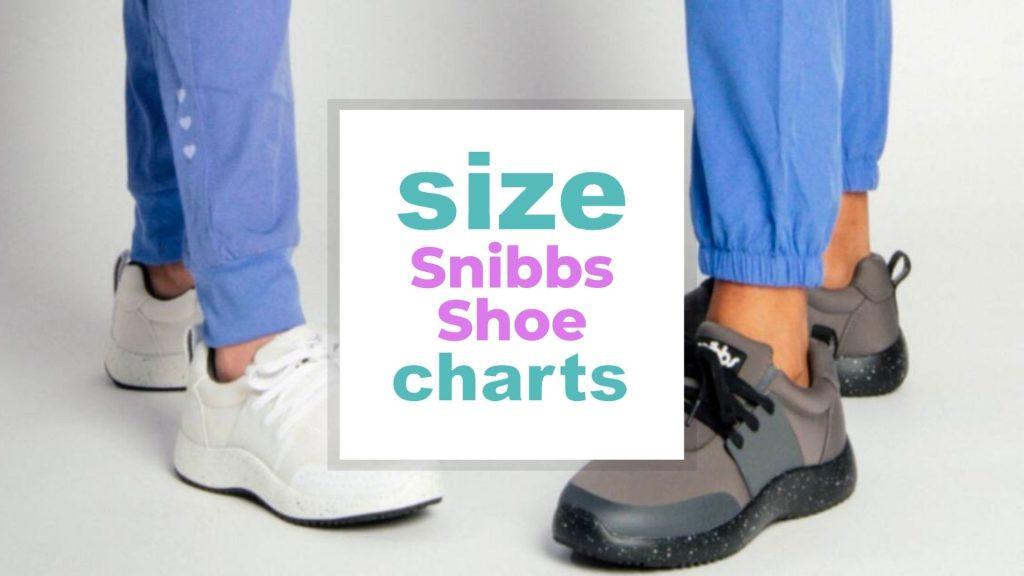 Choosing the right Snibbs size can be challenging without the right guidance. In this post, we'll discuss how to choose the best Snibbs shoe size.
Let's get started.
Jump right into the Frequently Asked Questions
We reviewed Tommy Hilfiger Size, Sizing of Fashion Nova, Land's End sizes, Old Navy size charts, American Eagle sizing, Levi's Jeans size, Chico's Sizes, J Crew sizes, Zara Women's sizes, Forever 21 sizes, express sizing, shein Sizing, asos sizing, Ralph Lauren sizes, Lacoste , Aeropostale, and much more here.
Snibbs Shoe Size Chart Table of Contents
Snibbs Shoes Size Charts
Related: Foot Size Charts for Adults and Kids: What's my shoe size?
Snibbs Men's Shoes Size Chart
| | | | | |
| --- | --- | --- | --- | --- |
| US Size | UK Size | EU Size | Foot Length cm | Foot Length in |
| 7 | 6.5 | 40 | 25 cm | 9.8 in |
| 7.5 | 7 | 40.5 | 25.5 cm | 10 in |
| 8 | 7.5 | 41.5 | 26 cm | 10.2 in |
| 8.5 | 8 | 42 | 26.5 cm | 10.4 in |
| 9 | 8.5 | 42.5 | 27 cm | 10.6 in |
| 9.5 | 9 | 43 | 27.5 cm | 10.8 in |
| 10 | 9.5 | 44 | 28 cm | 11 in |
| 10.5 | 10 | 44.5 | 28.5 cm | 11.2 in |
| 11 | 10.5 | 45 | 29 cm | 11.4 in |
| 11.5 | 11 | 45.5 | 29.5 cm | 11.6 in |
| 12 | 11.5 | 46.5 | 30 cm | 11.8 in |
| 12.5 | 12 | 47 | 30.5 cm | 12 in |
| 13 | 12.5 | 47.5 | 31 cm | 12.2 in |
| 14 | 13.5 | 49 | 32 cm | 12.6 in |
Snibbs Women's Shoes Size Chart
Related: Shoe width Size Conversion: The importance of width!, Size Charts and Brands For Wide Women's shoes
| | | | | |
| --- | --- | --- | --- | --- |
| US Size | UK Size | EU Size | Foot Length cm | Foot Length in |
| 5 | 3 | 35 | 22 cm | 8.7 in |
| 5.5 | 3.5 | 36 | 22.5 cm | 8.9 in |
| 6 | 4 | 36.5 | 23 cm | 9.1 in |
| 6.5 | 4.5 | 37 | 23.5 cm | 9.3 in |
| 7 | 5 | 37.5 | 24 cm | 9.5 in |
| 7.5 | 5.5 | 38 | 24.5 cm | 9.6 in |
| 8 | 6 | 39 | 25 cm | 9.8 in |
| 8.5 | 6.5 | 40 | 25.5 cm | 10 in |
| 9 | 7 | 40.5 | 26 cm | 10.2 in |
| 9.5 | 7.5 | 41 | 26.5 cm | 10.4 in |
| 10 | 8 | 41.5 | 27 cm | 10.6 in |
| 10.5 | 8.5 | 42 | 27.5 cm | 10.8 in |
| 11 | 9 | 42.5 | 28 cm | 11 in |
How to Choose the Correct Snibbs Size
Related: How To Measure Your Foot Size & Width, Easy EU to US shoe size conversion with size tables (foot length, IN, Cm)
Snibbs footwear is manufactured according to American standard sizing and runs true to size. As such, you can pick a size using your regular sneaker size. If you usually fall between two sizes, like 8.5 and 9, you should take the larger one.
Even without your standard shoe size, you can still find a fitting pair of shoes by measuring your foot length. Remember to wear the socks you'll wear with the shoes while taking the measurements to get better accuracy.
One of the challenges that Snibbs has is shoe width. This brand only has a standard shoe width which isn't convenient for those with narrow or wide feet. Nevertheless, you can still choose comfortable shoes by taking a half size up or down to ensure you get a suitable shoe width.
Why Choose Snibbs?
There are numerous footwear brands that claim they have the perfect work shoe. However, Snibbs is still among the best safety shoe providers on the market for a variety of reasons. Let's discuss them below.
1. Functional and Fashionable Shoe
Workers that spend hours at a time on their feet or walking require special footwear that can make it easier to work all day. Sometimes work shoes can be designed to deliver the performance you need but at the cost of aesthetics.
Luckily, Snibbs strikes a balance between style and functionality in a satisfying way. The shoes will be fashionable enough to wear both in and out of the workplace. So, there's no need to wear ugly shoes to keep your feet from getting sore because Snibbs has a wide variety of shoe styles and color choices. Check out Snibbs men's collection to see your options.
2. Based on Years of Research
Unlike most brands that make a few design revisions and take a shoe back into the market, Snibbs are based on more than three years of extensive thought and research.
Snibbs are among the best work shoes on the market because the entire shoe is reinvented from scratch with the worker in mind. This is the ideal way to solve the problems that workers face while on their feet for long hours. Every part of the work shoes is designed to help workers by increasing comfort or providing more support.
3. Comfortable Shoes
Snibbs are among the coziest shoes for workers for several reasons. The first is the dual-density insole that provides a thick cushion that can absorb any shock that comes from standing or walking. This dramatically reduces the pressure you feel on different parts of your feet to keep you comfortable all day.
The next reason is the wide toe box which provides enough room to wiggle your toes without feeling cramped. Even when your foot swells or if you have foot deformities, you will have ample space, ensuring you don't experience discomfort.
4. Lightweight and Flexible
Snibbs are made of comfortable materials to ensure you can move about without hindrance. You might have trouble walking if the shoe feels too firm since your feet will feel stiff. To solve this problem, Snibbs are made with lightweight materials to ensure you can enjoy natural foot movement with no obstruction.
Additionally, the shoes are made to suit male and female foot morphology. Since the shoes match your foot shape, you'll feel comfortable enough to move freely. Check out Snibbs for women to find a cozy pair.
5. Easy to Clean
Another excellent reason to choose Snibbs footwear is that the outer material is easy to clean. Even if your job gets messy and you end up spilling something on the shoe, it'll only take a minute to clean them.
This is mainly because the uppers are water-resistant and, therefore won't quickly stain.
What are the Features of Snibbs Shoes?
Snibbs are much better than the average work shoe. Why do we say so? Let's break down the features of Snibbs footwear to determine what makes them awesome shoes for the workplace.
1. Breathable Water-Resistant Upper Material
Snibbs come with a hydrophobic upper that can keep moisture out. This is a unique feature that's essential for people working in wet environments. With these waterproof shoes, you can say goodbye to getting your feet and socks wet.
Additionally, the uppers are also made of breathable material which allows heat and moisture to escape from inside the shoe. This reduces the chances of accumulating sweat inside the shoes which can cause discomfort.
2. Certified Slip Resistant Rubber Outsole
A water-resistant upper is great for wet environments, but it doesn't help with traction and stability. When you need superior slip resistance, Snibbs is the answer. The shoes feature a rubber outsole that has passed the Brungraber Mark II Test which is the industry standard for non-slip work shoes.
Snibbs allow you to walk and stand on wet surfaces like bathroom floors without losing balance. Even wet floors with grease, oil, or water won't stop you from doing your job safely.
3. Custom Ortholite Insole
The Snibbs brand collaborates with industry-leading insole provider, Ortholite, to make a custom, multi-layered, and supportive insole. This makes Snibbs great for people with flat feet. The supportive foundation ensures you have a stable platform that can keep you on your feet without fatigue for hours at a time.
Besides that, the antibacterial insoles prevent the growth of bacteria that cause foot odors. So you can maintain a clean environment inside the shoes even if you have sweaty feet.
4. Durable Midsole
Every part of Snibbs shoes is made of robust materials including the midsole. The TPU midsole has enough cushioning to take the pressure of walking and standing from your feet. As a result, you'll experience less strain and more relief as you work.
5. Easy Slip-On Design
Unlike traditional shoes that come with a tongue, Snibbs feature a slip-on design that allows you to quickly put them on. This feature makes them great for people like doctors and nurses who might need to get to work super-fast in case of an emergency.
6. Adjustable Side Cages
The shoes also feature side cages that allow you to adjust the fit. Even if the shoes don't have the perfect width, by adjusting the side cages, you can get a snug feel and secure the shoes in place with laces.
7. Wide Toe Box
When standing for hours without a break, your feet will probably swell. If your shoes don't have some extra room, you'll feel some discomfort as the shoes press against your swollen toes. Snibbs come with a wider toe box to accommodate your swelling feet for more comfort.
8. Deep Heel Cup
Do you regularly experience back, joint, or knee pain because of bad posture? Snibbs shoes can help you alleviate your situation thanks to the deep heel cup. The cup helps align your feet, knees, and back to reduce the chances of experiencing pain because of overpronation and similar foot conditions.
9. Achilles Notch
Some shoes feature a heel collar that can easily burrow your Achilles tendon and cause pain. Snibbs footwear comes with a notch at the heel collar to keep it from directly touching your tendon.
10. Rugged Pull Tab
If putting on your current work shoe seems hard, try Snibbs. These shoes come with a pull tab on the back to aid in pulling the shoe onto your foot without damaging the heel cup by forcing your foot through.
Learn more about Snibbs Shoe size chart (video)
Frequently Asked Questions
1. Are Snibbs true to size?
Yes, they are true to size.
2. What's size 39 in women's Snibbs?
It's equivalent to a US size 8.
3. How are Snibbs supposed to fit?
Snibbs should have a close fit along the length and across the width of your feet.
4. How wide are Snibbs?
Snibbs have a standard width so if you want a wider shoe, you should size up.
5. Should you size up or down in Snibbs?
You should size up if you need more width.
6. What's size 10 in a man's Snibbs shoes?
It's equivalent to a foot length of 28 cm or 11 inches.
7. What should I do if my Snibbs are too tight?
You should take a half-size larger to get more shoe width.
Conclusion
Snibbs offers a variety of work shoes for people of all professions. If you spend most of your time on your feet, Snibbs can make you more comfortable whether you are standing or walking. You can pick your Snibbs shoe size based on your usual sneaker size or measure your foot length and check the size charts.
If you have questions about Snibbs shoe sizes, leave them below.
Picture in this post is from TrazeeTravel.com
Related to Snibbs Shoe Size Chart