What Scott Bike Size do I need?
This post was last updated on November 14th, 2022 at 04:44 am
Why is it important to know the right size before purchasing a new Scott bike? Buying the perfect size bike implies it will be more comfortable and fun to ride and will help lower the chance of injury.
You repeat the same actions to push the pedals thousands of times during a modest ride. Any excessive tension or muscle pulling becomes problematic soon, causing pain and damage.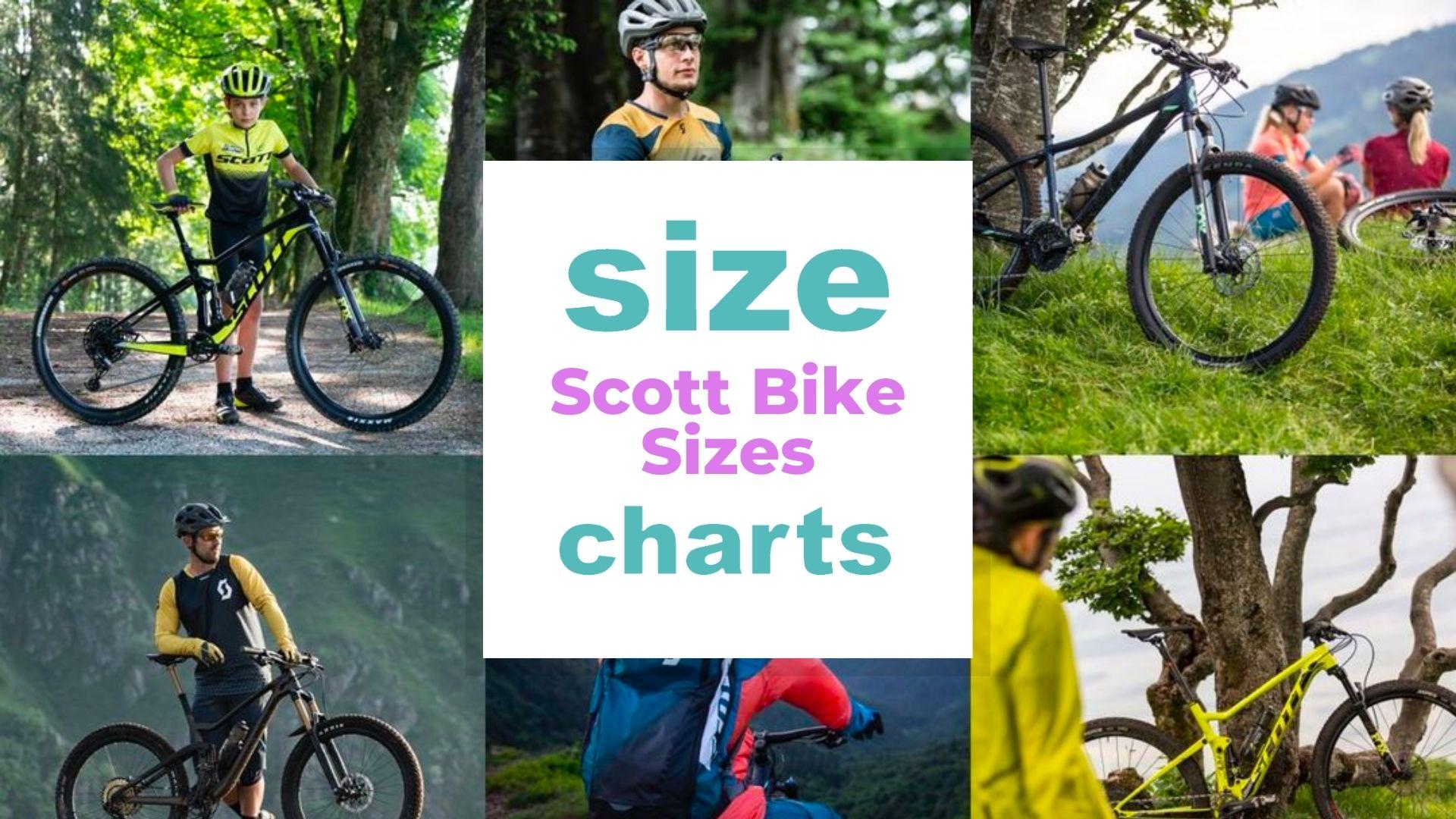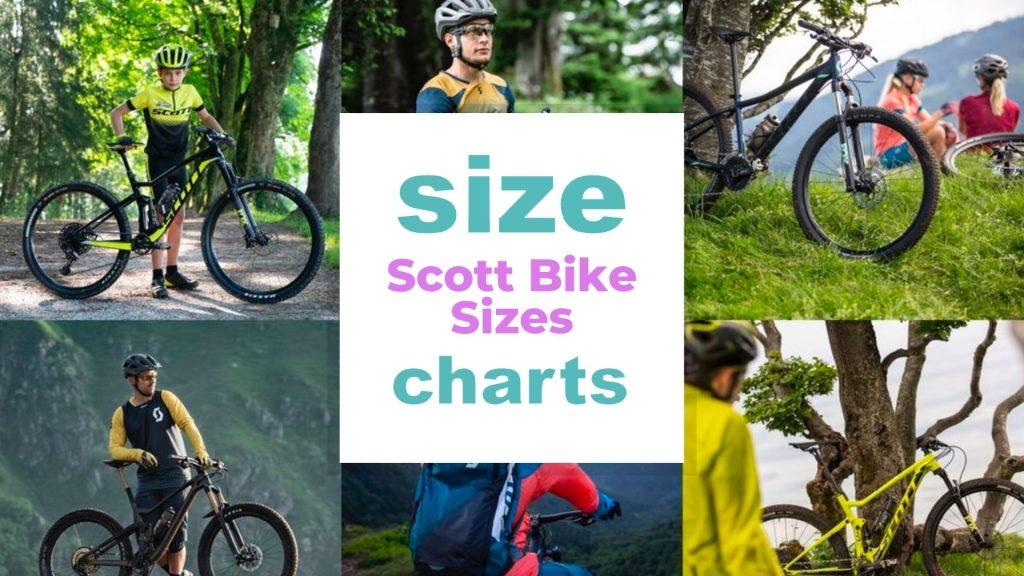 We've all heard about the health advantages of biking. Getting the appropriate size means you're more likely to like it and less likely to abandon it because it's too unpleasant. If you choose the proper bike for you, you'll be able to ride more effectively.
Moreover, if the frame is too tiny, you risk injuring yourself by retaining a tight posture, clipping the front wheel with your toe when turning, and being unable to give your complete range of motion, limiting the power you can push with.
Related: Race bike tire size and width for road and racing bikes, Scott Clothing Sizes for Adults and Kids
Jump right into the Frequently Asked Questions
Scott Bike Sizes Table of Contents
Why Is It Important To Know The Right Size Before Buying A Scott Bike?
Related: Mountain Bike Size Chart – the Complete Guide, Road Bike Size Chart – A Complete Guide, Bike Tire Size Chart And Sizing Guide
It will be hard to provide power or manage the bike effectively if your bike is too large.
Although there are many distinct kinds of bikes with varied riding positions to fit their function, certain fundamental rules apply regardless of the type of bike you purchase.
This article will assist you in understanding the measurements required to choose the right Scott bike size for you, regardless of your riding discipline.
Scott Bike Sizes Chart
Buying a bike means making certain that anything you purchase is the right size. This may be as basic or detailed as you want, but it is easy to make a mistake here, so follow the Scott bike sizes chart below.
Scott Bike Sizes For Kids
Related: Kids Bike Clothes Size Chart for all ages and heights
| | | |
| --- | --- | --- |
| Age (Years) | Height (CM) | Wheel Diameter (Inch) |
| 2-4 | 85-100 | 12 |
| 2-5 | 85-110 | 14 |
| 3-5 | 95-110 | 16 |
| 5-7 | 110-120 | 20 |
| 7-9 | 120-135 | 22 |
| 9-11 | 135-145 | 24 |
| 11+ | 145+ | 26 |
Scott Mountain Bike Sizes For Men
Related: Men's Bike Clothes Size for All Clothes
| | | |
| --- | --- | --- |
| Inside-leg (CM) | Height (CM) | Sizes |
| 71-75 | 152-160 | 15 (XS) |
| 75-79 | 160-170 | 16 (S) |
| 79-83 | 170-174 | 17 (M) |
| 83-85 | 174-180 | 18 (M) |
| 85-89 | 180-188 | 19 (L) |
| 89-92 | 188-195 | 20 (L) |
| 92+ | 195+ | 21 (XL) |
Scott Road Bike Sizes For Women
Related: Women's road bike size chart – all dimensions and tips for the perfect ride, Women's Bike Clothes Size Chart – All Cycling clothes sizing
| | |
| --- | --- |
| Height (CM) | Sizes (CM) |
| 148-152 | 44 (XXS) |
| 152-160 | 48 (XS) |
| 160-168 | 51 (S) |
| 168-175 | 54 (M) |
How To Choose The Right Scott Bike Sizes
The seat tube length is often used to measure and classify bikes. The bike tube into which the seat post (and saddle) slips. This dimension is traditionally offered in metric (cm) for road bikes and imperial (inches) for mountain bikes.
Some suppliers use seat-tube sizes to distinguish between bike sizes, whereas others employ small, medium, and large.
Additionally, the method by which makers measure their bikes varies somewhat from one brand to the next.
How To Measure Scott Bike Sizes?
Related: Compression Socks Size for men and women with easy to use size-charts, Plus Size Workout Clothing size chart for men and women
The main measurements on your Scott bike size will be height, inside leg measurement, and reach.
Standover Height
The space between the top tube of the bike and your crotch while standing right in front of the saddle is determined by your inner leg measurement.
We recommend at least two inches of space to allow you to jump off as needed swiftly.
Inside Leg
To measure your inside leg, stand with your legs approximately shoulder width apart with your shoes off, then measure from the ground up into your groin.
You can also use a pencil to mark your inside leg on a wall and measure it later.
Reach
If your height and inside leg measurements place you in the middle of two sizes, your upper body must be the determining factor when choosing the best-size bike for you.
Your upper body measurements define your reach, influencing how stretched-out you are along your bike's top tube. Assess your 'Ape Index' to calculate if you have a short or long reach.
Learn more about how to choose the right Scott's bike size
Frequently Asked Questions
1. How Important Is Choosing The Correct Scott Bike Sizes?
Riding a too-small frame can ultimately cause lower back discomfort, particularly if you're riding a road bike.
Changing the handlebars will not compensate for the frame. Fatigue – Pedal efficiency is a big reason to acquire a bike that's right for you.
2. How Do You Measure The Frame Of A Scott Bike?
Scott bikes are available in three sizes: small, medium, and large. The length of the seat tube likewise measures Scott road bikes. Therefore, you may calculate the size by measuring the seat tube of these bikes.
Unless you have a geometry chart to compare it against, it is difficult to determine the dimensions of different varieties of Scott bikes by measuring them.
3. What Are the Most Important Bike Fit Measurements?
For cyclists, saddle height is likely the most crucial parameter. It's critical since it affects your comfort level, capacity to churn out wattage, and knee health.
It is also the simplest to establish but also the simplest to move or slide.
4. Is It Better To Size Up Or Down When Buying A Bike?
Smaller is preferable since you may lift the saddle. However, fit difficulties are unique and personal. As you gain strength, you will want a longer bike.
5. What Is The Size Of A Medium Scott Bike?
The medium frame of a Scott road bike measures 54cm. Small measures 52cm, large measures 56cm, and X large measures 58cm.
Scott MTBs do not have a standard measurement.
6. What Size Scott Bike Should I Get?
The frame size is included in your bike's serial number (f.e. 52, 54, 56 for a road bike or S, M, L for an MTB).
It's also incorporated into a logo on the frame near the top tube/seat tube junction.
7. Are The Sizes Of Scott's Road And Gravel Bikes Different?
For an elegant riding experience and energetic handling, road bikes often feature a short wheelbase and steeper angles.
Gravel bikes feature a larger wheelbase and a slacker's head angle to increase stability and slow handling while navigating tricky barriers and sloppy descents.
Conclusion
Try on a bike at your local bike store until you're pretty sure about the right Scott bike size that's perfect for you. That's the greatest method to ensure you're getting the right bike.
You'll be able to try on several sizes to find what fits best. Furthermore, the professionals there will be able to inform you if the bike you are contemplating is too tiny or too large. They will also be aware of other changes you may make to enhance and fine-tune the bike's fit after you have the correct bike.
Nothing beats whizzing about on a bike that is appropriately tailored for you. A bike like this becomes an extension of your own body, so it's well worth the time and effort to select one that's the correct size.
Do you still have unresolved questions? Just leave a remark below.
Picture in this post is by Ruben Christen on Unsplash
Related to Scott Bike Sizes