Chicco Infant Car Seat Size
Chicco infant car seats have their own unique and impressive features that make them a darling for many parents and guardians around the world: For example, the Canti BELL harness is such a great feature that is beautifully designed to keep them from falling out (skip straight to the Chicco Infant Car Seat Size Chart).
It is a harness that contains interlocking adjustable straps for easy Chicco infant car seat size adjustment. The benefit of this is that it provides a wide range of comfort for your baby while keeping the car seat secure and lowering the risk of infant injury.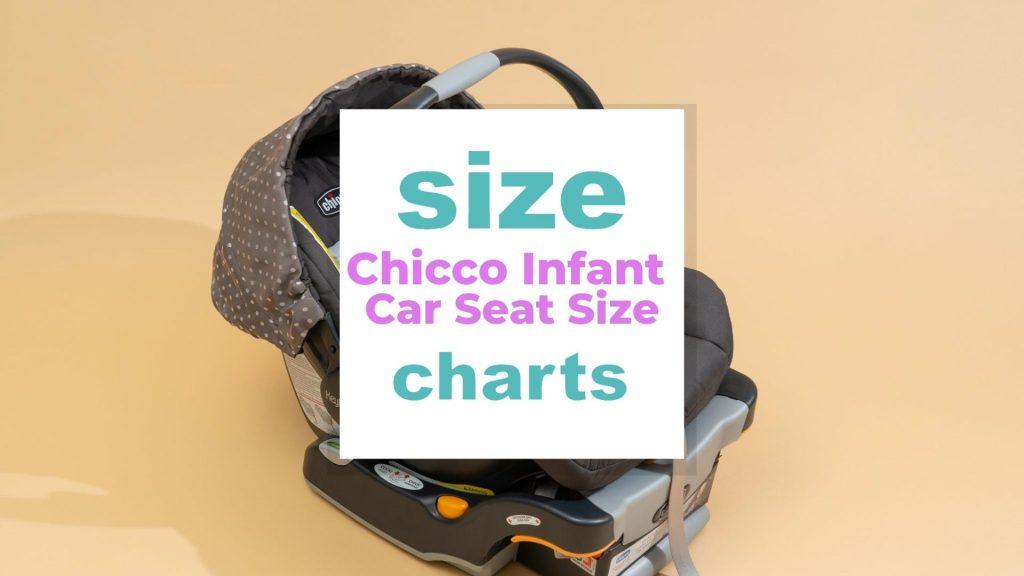 The Chicco Infant Car Seat is a unique, versatile vehicle seat that provides the maximum level of safety for your child while protecting their spine and head.
Chicco seats are designed to provide a comfortable and snug fit for children. Chicco infant car seats are available in different configurations and colors and have removable and washable covers for easy cleaning.
Jump right into the Frequently Asked Questions
Related: Pampers Size Chart for all ages by type (size charts included), Huggies Size Chart for all ages by type (size charts included), Shoe size for Babies and Toddlers, Britax Strollers Size Guide and Different Models
Chicco Infant Car Seat Table of Contents
Chicco infant car seat size
Related: Baby Jogger Car Seat Size Guide by age, height and weight
Wondering which Chicco infant car seat is the best for you in terms of size? Not all Chicco infant car seats are manufactured the same way as you can expect. And therefore when it comes to choosing a car seat for your infant, there are a lot of factors to consider.
Safety for instance is very critical plus you always need to take into account several factors, such as your child's age (Chicco infant car seat size and age), size, and height, and whether or not your child is in a child restraint system.
Size is mostly important because children grow fast and one size doesn't fit them all the time. So choosing the right Chicco infant car seat size is as important as choosing the perfect Chicco infant car seat for your needs. This is because there are different models, and each one is designed for different weights and heights.
You can choose the car seat best suited for your child by comparing your child's weight to the car seat's weight and height charts, which are one of the easiest resources to help you find the right items whenever shopping.
For example, a baby who is 10 pounds at birth and 32 pounds at 29 weeks should be placed in a car seat with a height and weight chart that is one size smaller than their actual weight. This would allow them to fit properly in their car seat without compromising their safety.
Chicco infant car size comparison chart
Related: Infant Car Seat Size Explained in Detail by age, weight & height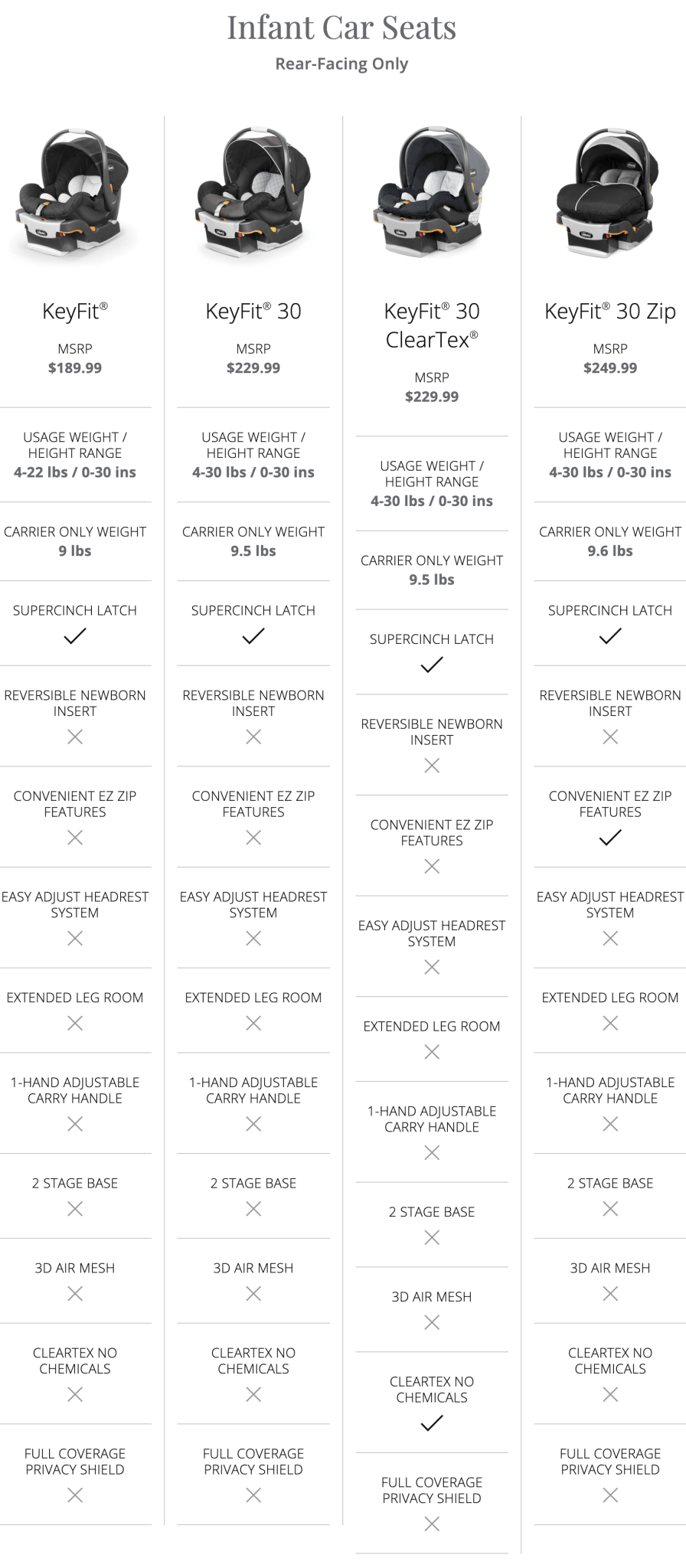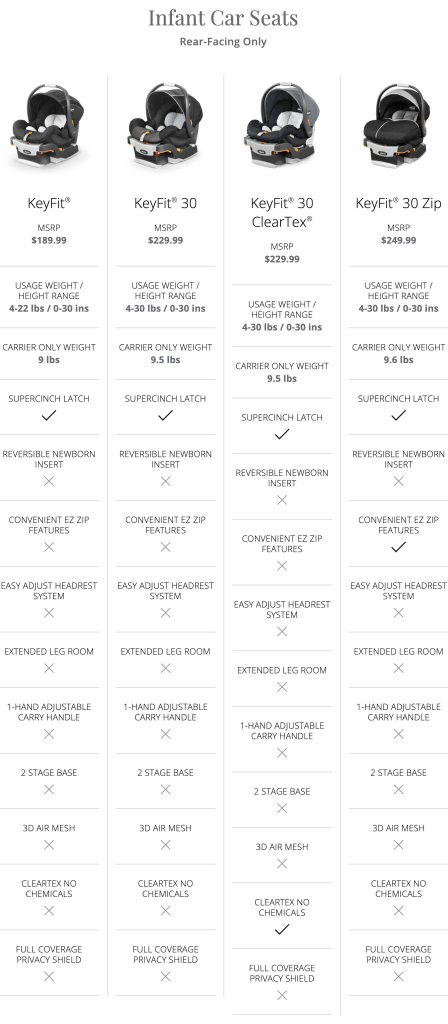 Chicco infant car seat size chart
Related: Britax car seat size chart by model, weight and age
| | | | | | | |
| --- | --- | --- | --- | --- | --- | --- |
| | Stroller type | | | | | |
| Dimensions | Convertible (in) | cm | Baby & Infant (in) | cm | All-In-One (in) | cm |
| Assembled (L x W x H) | 24 x 18 x 27 | 61 x 46 x 68 | 29 x 17 x 25 | 74 x 43 x 64 | 23 x 20 x 29 | 78 x 51 x 63 |
| Max Harness Slot Height | 16 | 41 | 11 | 27 | 19 | 48 |
| Shoulder Width | 13 | 33 | 11 | 27 | 14 | 36 |
| Hips Width | 13 | 33 | 11 | 27 | 13 | 33 |
| Seat Depth | 17 | 43 | 15 | 38 | 15 | 38 |
Is the Chicco infant car seat size easy to install?
Related: Graco Infant Car Seat Size and How to Install It
Yes, it's easy to install. In fact, the seat has been described by some users as the easiest infant car seat to install – with bubble-level indicators and a spring-loaded leveling foot that allows you to adjust the base angle in the vehicle seat (Chicco infant car seat size base ), as well as premium LATCH connectors that make it so simple to install.
Installing the Chicco infant car seat size is a breeze. The car seat can be installed using either the seat belt or the LATCH system, making it adaptable to most vehicles. The car seat is also easily adjustable to fit different-sized infants.
Even better, the headrest and harness are also easily adjustable as well. In addition to the installation which is an absolute breeze, the car seat is comfortable and secure for your little one.
How long are Chicco infant car seats good for?
Related: Baby crib size chart for the best sleeping experience of your newborn, Diaper size by kids age with easy to use size charts and tips
The convertible car seat is good for a period of 8 years, a decent life span within which you will have used the car set for a number of kids. Mostly, the expiration date will be found clearly written on the lower side of the seat. Make a point of checking the white label and right there you will find the lifespan.
Just remember that the lifespan is counted from the date of manufacture and not necessarily the date you buy it. So it's also important to pay attention to the date the seat was manufactured. This will help you and guide you to choose a seat whose date of manufacture is as recent as possible so that it can give you some good bargain on time to expiration.
In terms of weight (Chicco infant car seat size and weight), Chicco infant car seats are designed for children who weigh between 4-30 lbs. as well as up to 30" tall in terms of height (Chicco infant car seat size and height).
The seats are made to be lightweight and easy to carry, which is why they're a popular choice for parents on the go. But don't let the compact size deceive you – Chicco infant car seats are built to safety standards that exceed government requirements.
One thing to keep in mind is that Chicco infant car seats are only good for children who weigh up to 30 pounds. So if your child is on the heavier side, you'll need to upgrade to a bigger seat before hitting the road.
Learn more about Chicco infant car seat (video)
Frequently Asked Questions
What is the height limit for Chicco KeyFit 30?
The Chicco key fit 30 infant car seat sizes in terms of a height limit is 30 inches or less. As already highlighted for Chicco infant car seat size by weight, the limit is 30 pounds. Children weighing anywhere between 4 to 30 pounds can comfortably use it.
It's important to keep in mind that while the car seat will still be used for larger children, it may not be as safe as it would be for a smaller baby. So, it's always best to keep your child within the Chicco infant car seat size restrictions for weight and height limit for Chicco KeyFit 30.
What is the difference between Chicco KeyFit and KeyFit 30?
The Chicco KeyFit 30 is a slightly larger car seat that can accommodate children up to 30 pounds. The KeyFit, on the other hand, is for children up to 22 pounds.
Both seats are Side Impact Protection (SIP) certified and have a five-point harness system. However, the KeyFit 30 also has a removable insert that can be used for premature or smaller babies. The KeyFit does not have this feature.
If you're looking for a car seat that will last you a little longer, the Chicco KeyFit 30 is the way to go. If you're not sure how long your child will be in a car seat, the Chicco KeyFit is a great option that will still provide safety and comfort for your little one.
Is the Chicco KeyFit 30 heavy?
The KeyFit 30 is a bit on the heavier side, but that's to be expected with an infant car seat of this size and weight. It clocks in at 11 pounds, so it may be difficult to carry for long distances.
However, the weight is distributed evenly so that the seat doesn't feel too heavy when it's installed in your car. And, as an added bonus, the KeyFit 30 comes with a base that helps to anchor the seat in place.
How long can you use the Chicco KeyFit 35?
The Chicco KeyFit 35 can be used for 6 years. By this time your child will have reached 35 pounds or 32 inches in height. Of course, the height and weight can vary slightly depending on factors like the environment but these are ideal. It's an excellent car seat for premature and newborn babies, as well as toddlers.
Many parents find that they can use the KeyFit 35 until their child is ready to ride in a regular car seat. It's also one of the lightest car seats on the market, so it's easy to move around if needed.
Make sure to keep your Chicco KeyFit 35 up-to-date with the latest safety standards by regularly checking the Chicco website for revisions.
Conclusion
Chicco infant car seats come in a variety of sizes to accommodate different children. Some are smaller and better suited for premature or newborn infants, while others are larger and can accommodate children up to 30 pounds or more.
It's important to choose the right Chicco infant car seat size for your child to ensure maximum safety and comfort. If you want to use this seat in combination with others, then be sure to use a good Chicco infant car seat size adapter or other appropriate Chicco infant car seat size accessories.
Finally even as we talk about the right Chicco infant car seat size, always remember that car safety is a serious topic. Ensuring your child's safety in the car is important, but it can also be confusing when it comes to car seats. Car seats are a great way to keep your child safe when they travel in the car. The right car seat can help keep your child safe in a crash and keep them comfortable.
Picture in this post is from Consumerreports.org
Related to Car Seat Size Charts